Two-one-charlie vs the Toxic Avenger
[Note: This post was originally published August 21st, but mistakenly not with the Fodar News tag]
Ever since I saw Toksook Bay on the map I've been thinking of 1980s B-grade horror movies and wondering what I'd find there.  Today I found out.
Ceilings were uncharacteristically high this morning (that is, more than 3000′) so I got an early start.  Right out of town I encountered fog and mixed layers, but overall ceilings were still mostly over 3000′, with some annoying scattered clouds here and there.  Though I launched about 9AM, the combination of soon-to-be-winter morning-light and descending overcast to the south led to pretty dim light overall.  Not wanting to miss the weather window, I cranked the ISO to 2000.  I was pleasantly surprised how well it turned out.  In part to give the light some time to brighten and in part to get a cloud-free Tunt, I repeated my acquisition of Tuntutuliak from yesterday.  It still wasnt cloud free, as the east end had me blocked and making creative turns, but hopefully between the two days there should be enough cloud-free imagery everywhere.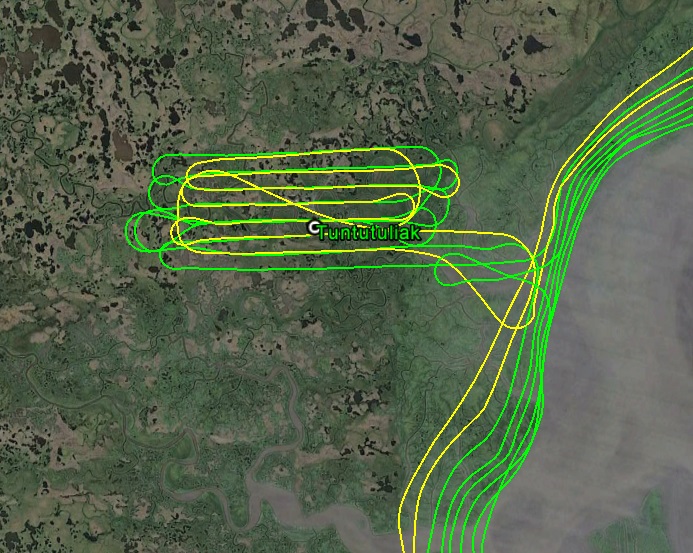 I repeated Tunt to try to get it all cloud-free.  You can see how the coastal lines here are building up inland day after day.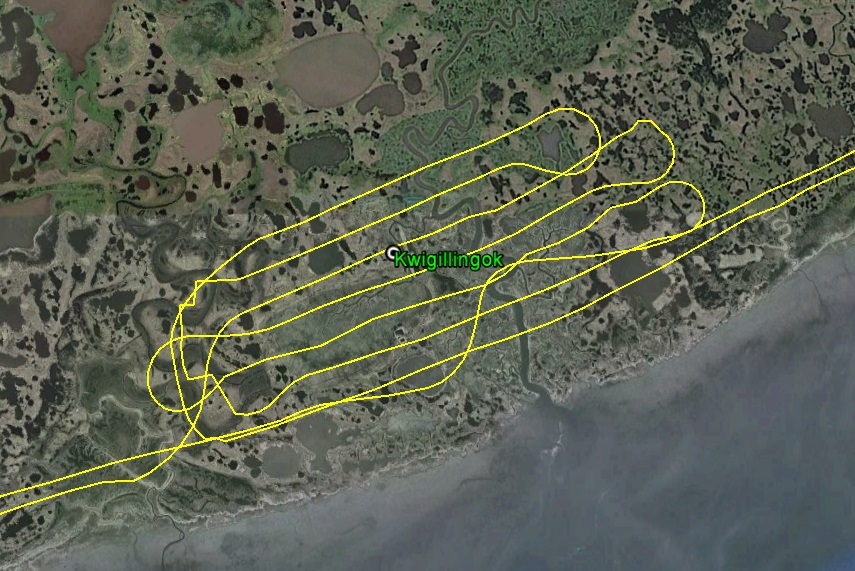 As I continued down the coast, I picked up Kwigillingok, which all the pilots call Kwig.  It was fortunately inside a donut whole of cloud-free area.  Generally speaking the coast had fewer low-clouds than just a bit further inland.

Once I got past Kwig, however, ceilings dropped considerably and I started getting into rain squalls.  I continued to add interior lines to the coastal acquisition, but again because I was so low, my swath widths were less than half of what they were planned for, meaning twice as much flying and four times as much processing, but the final product will be much better than planned, and it was already really good.  This situation didnt improve past Kipnuk, but it always looked brighter further away so I kept dodging and weaving and trying to stay as high as possible, though that was getting to be only 700-800′ pretty often.  I had wanted to map Cherfornik today, but as I passed it I could see it was no better off than where I was, so I hoped it would improve on the way back.
It was looking pretty grim by the time I reached the bay in front of the village of Toksook Bay.  Here I could occasionally catch glimpses of the far side of the bay, but here also was the only serious terrain within a hundred miles and I was not inclined to throw that into the mix.  Plus there was a significant rain squall between me and there, so I headed into Nightmute to see if it was possible to acquire it.  I had planned Nightmute to get 17 cm resolution like the coast, which meant flying at 2700′.  Given I barely had 1500′, this was clearly not possible.  But I could double my line spacing by flying first flying the lines I had planned into my GPS and then flying another line by eye in between each of those.  This worked reasonably well, except I was getting chased by the rain squall closer and closer to Nightmute, as the wind was from the west and reasonably strong.  By this time I was also needing to refuel, so I made quick turns to speed things along and landed in the cross-wind, refueling as quickly as I could.  On the ground, there was no way of knowing whether this was a squall or the start of a hundred mile wide fog bank, and while the guy I chatted with seemed friendly enough, I was really not looking forward to being stuck here.  By the time I topped off and launched, the southern part of runway was in a curtain of white, but where I was it was still open, so I headed off.  Once airborne, I could see this was just a squall and that Toksook Bay was open, so I made a U-turn and headed over.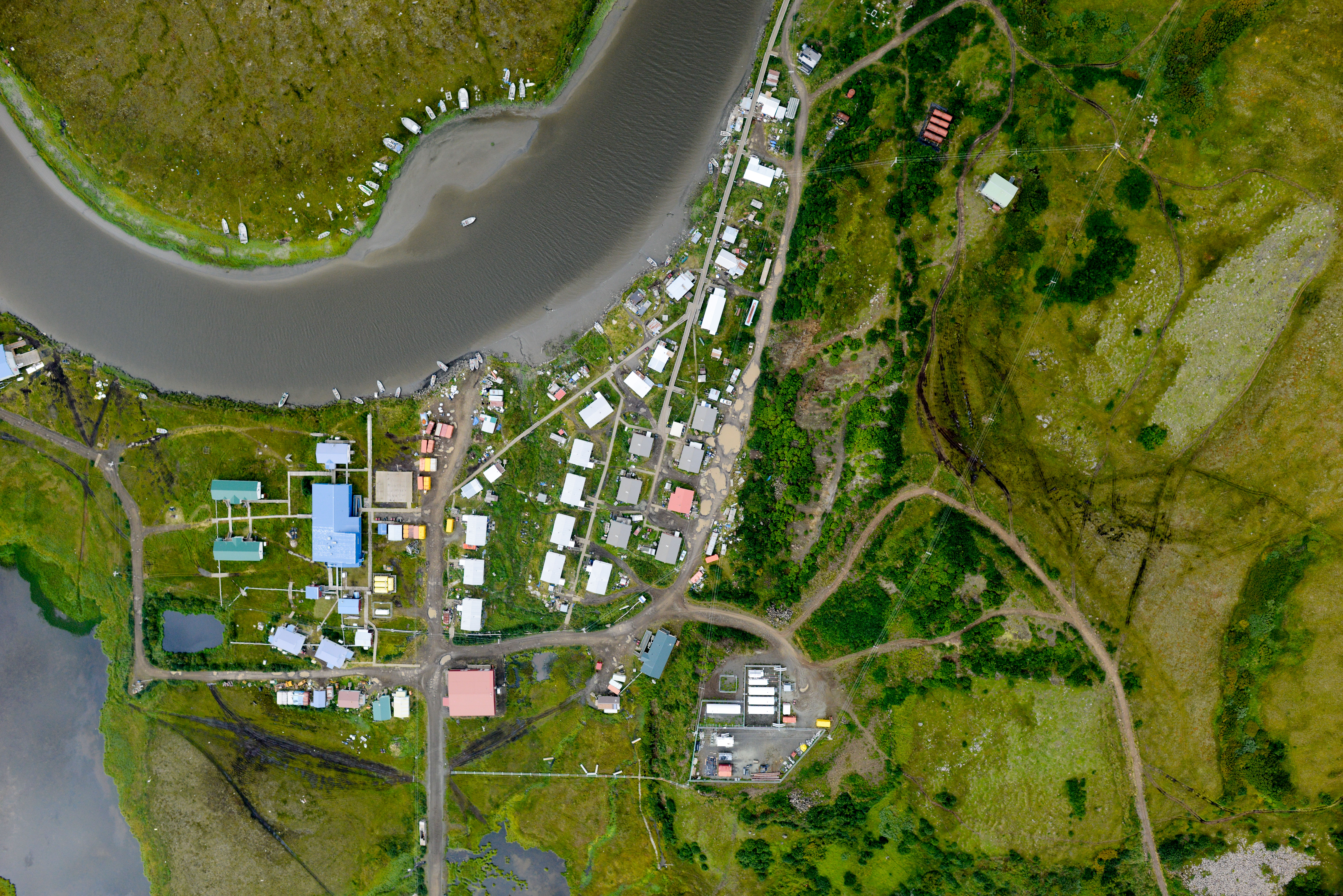 Nightmute.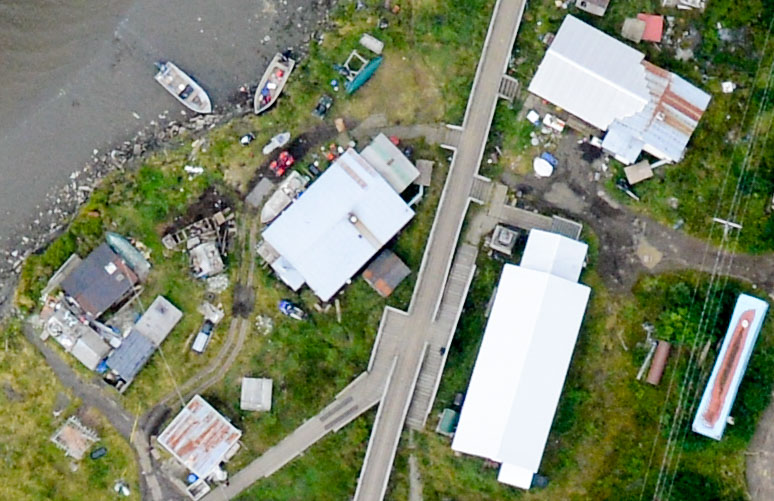 Boardwalks are pretty popular in lieu of roads here.  Not only will these boats becomes part of the topographic map, what's inside the boats will too…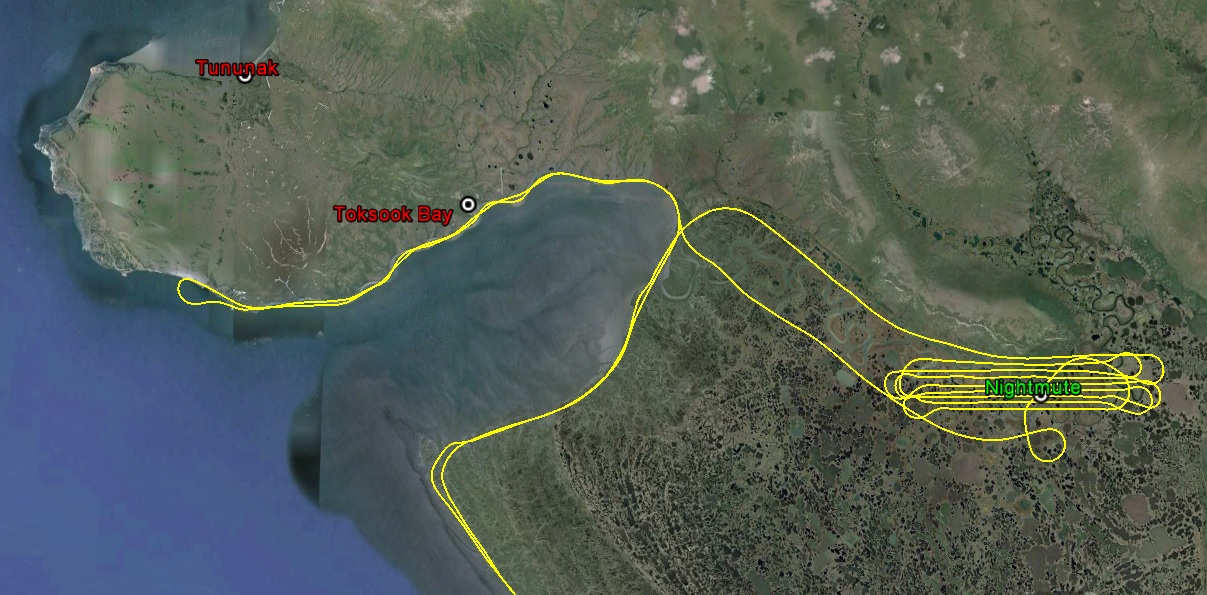 21C meets Toxic Bay.
By the time I got to the other side of the bay, the clouds were already changing.  I had hoped to go all the way around the peninsula, but the clouds were now obscurring the mountain there and I was afraid to get trapped on the wrong side.  Plus, after having the area to myself for several hours, three commercial planes descended on the area, and they were already getting in each others' way.  When I'm at 2700′ above the airports, nobody really cares, but when when I'm flying across the runway centerlines at 500′ I become more of an issue.  With so much going on, I bailed and headed back down the coast, but was happy to finally put a face to the name.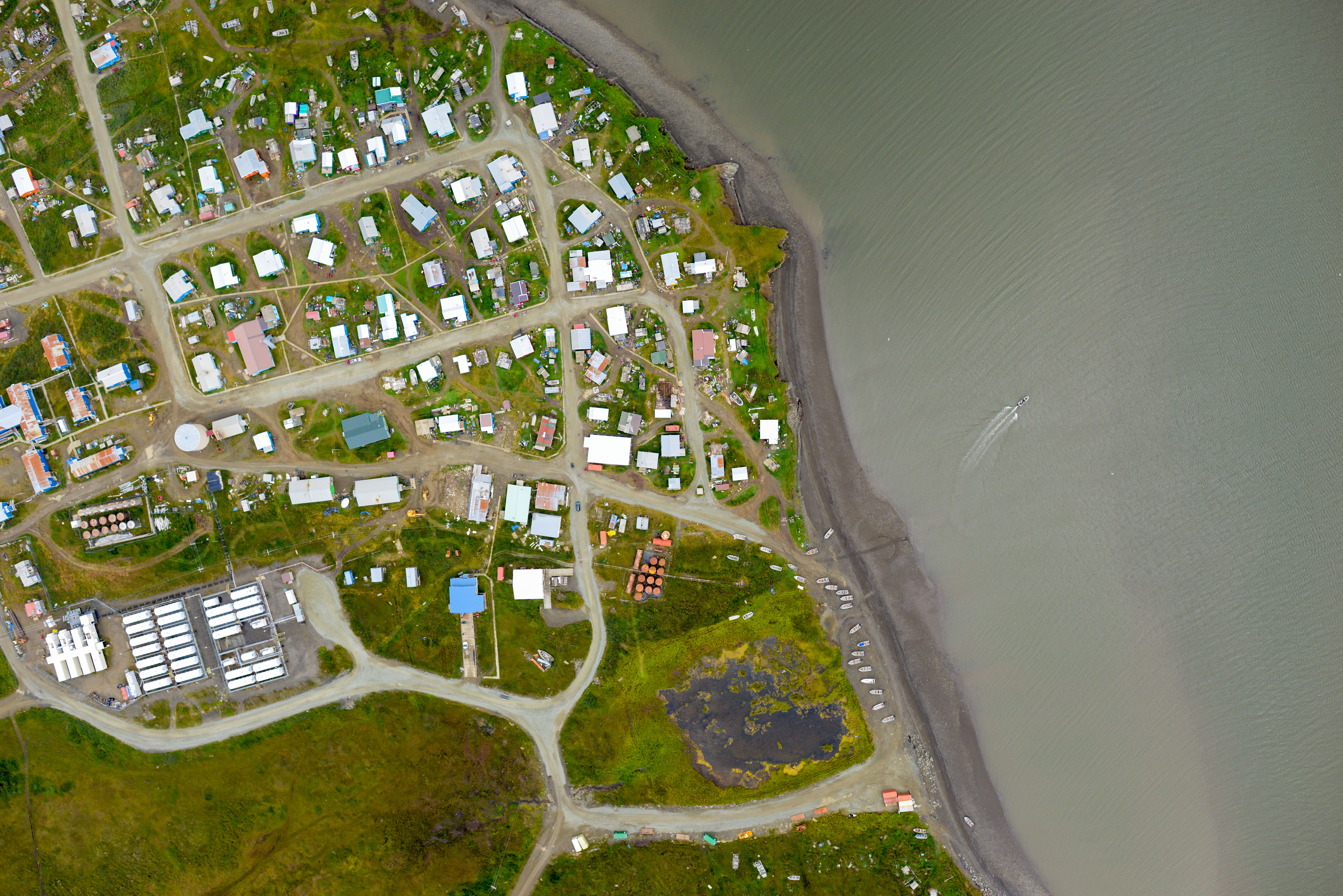 Toksook Bay.  I got enough photos to measure the mean high water line and some of the town, but the ceiling was too low to capture the inland part of the town, so I'll have at least one more chance to meet the Toxic Avenger, who apparently had better things to do.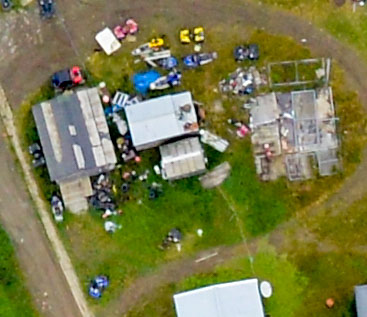 Here's a crop of Toksook Bay at 200%.  I count six 4-wheelers and four snowmachines, most of which look functional.  These will all become part of my topographic map.
The return trip was much like the inbound.  Low ceilings along the coast, Cherfornak in the rain, and the clouds lifting around Kwig.  Since I had the ceiling and the time and the fuel, I looped back near Tunt to make add another set of lines between there and Kong, completing that stretch.  The general idea behind this flight plan was exactly what's occurred here — by using the coastal route for commuting to more distant locations, day after day we move further inland and thus dont have to commit time to this specific area.  I had more or less planned to do that everywhere, but in the end weather dictated that in most cases I had to commute inland.  But two more days of good weather near Toksook Bay, and those commutes will finish the rest of the lower Kuskokwim Delta, so its still sort of working out.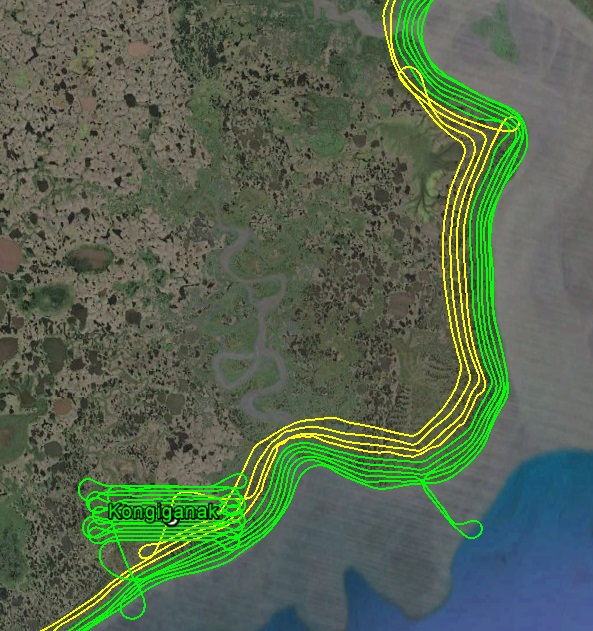 This is the first stretch of delta that I've completed to the inland extent of the plan.  With the right ceilings, it goes quickly.
The last bit of adventure was mapping Napiak.  I added this one to the list during the planning stage above and beyond the RFP list because it was so close to Bethel.  The problem was, however, is was so close to Bethel.  Only about 8 miles away, it is straight off the departure route of the Bethel runways and just beyond the towered-controlled airspace.  So just as people are heading down river they are also changing frequencies and not really considering that some guy from Fairbanks might be flying back and forth right in front of them not heading anywhere.  So I decided pretty early on that I was going to skip this village and make up for it in some other way.  However when I got close in to Bethel today, it seemed pretty quiet so I made some quick lines over it, with some quick turns to avoid the Bethel airspace.  In the end I think I got it all, but it was kind of a cluster because my GPS was clogged with my tracks from previous days that weren't mapping tracks, so we'll have to see.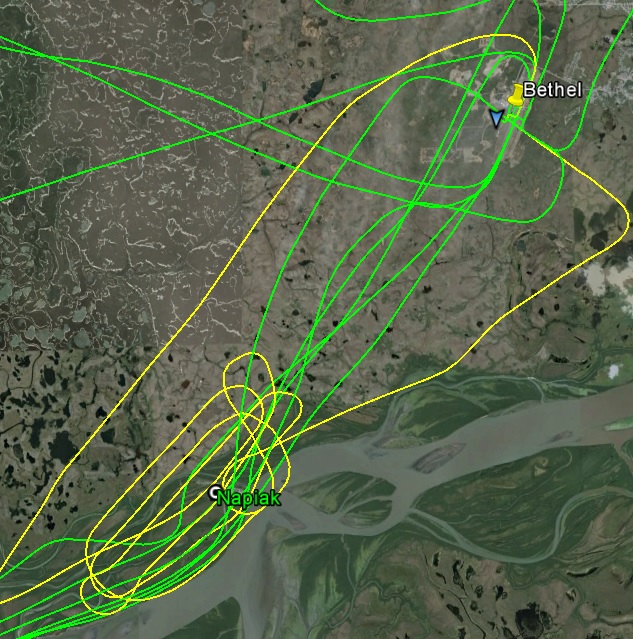 Napiak is really close to Bethel and kind of in the way, but hopefully I took enough photos in that tangle of flight lines to capture everything…
A few pretty pictures from the day…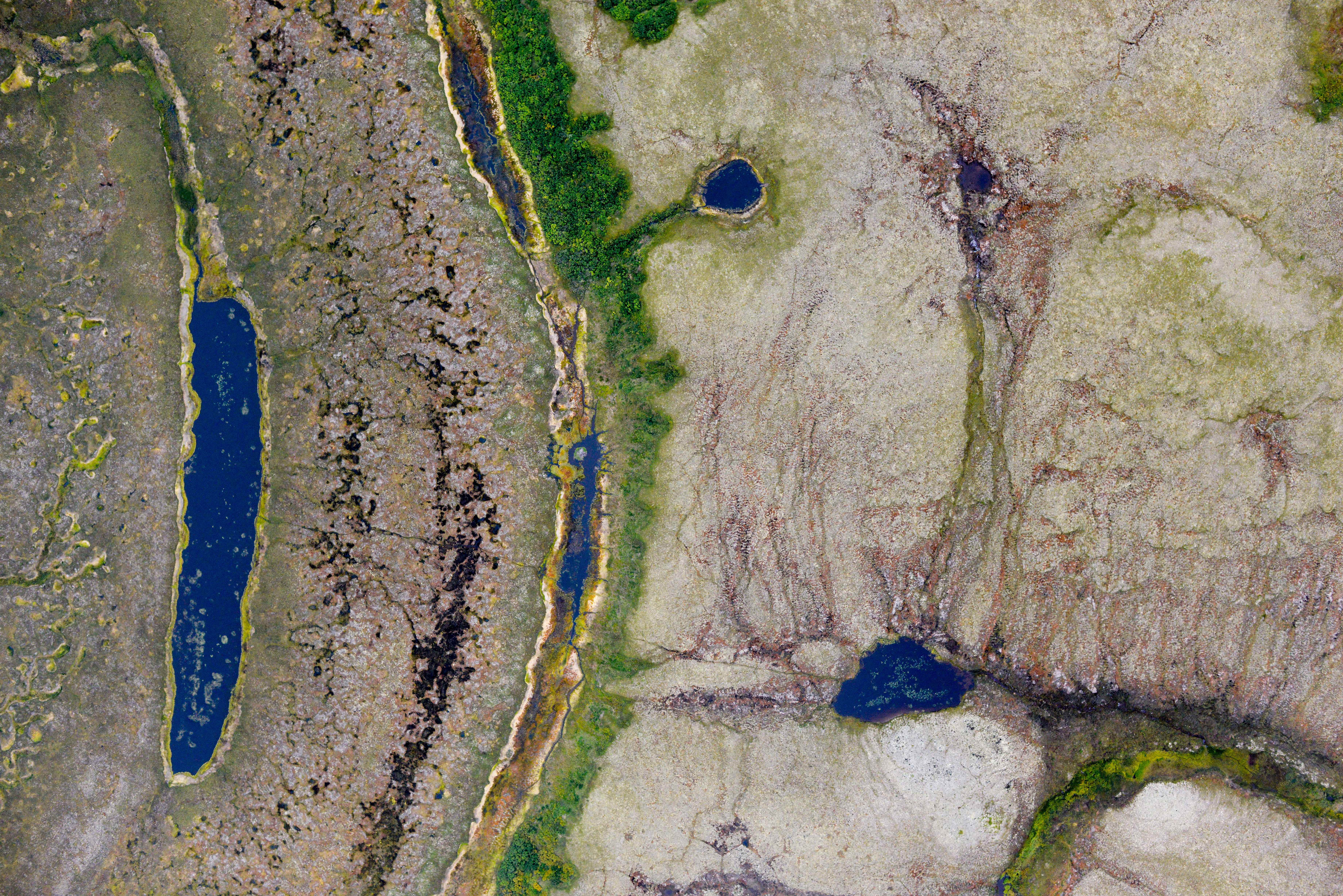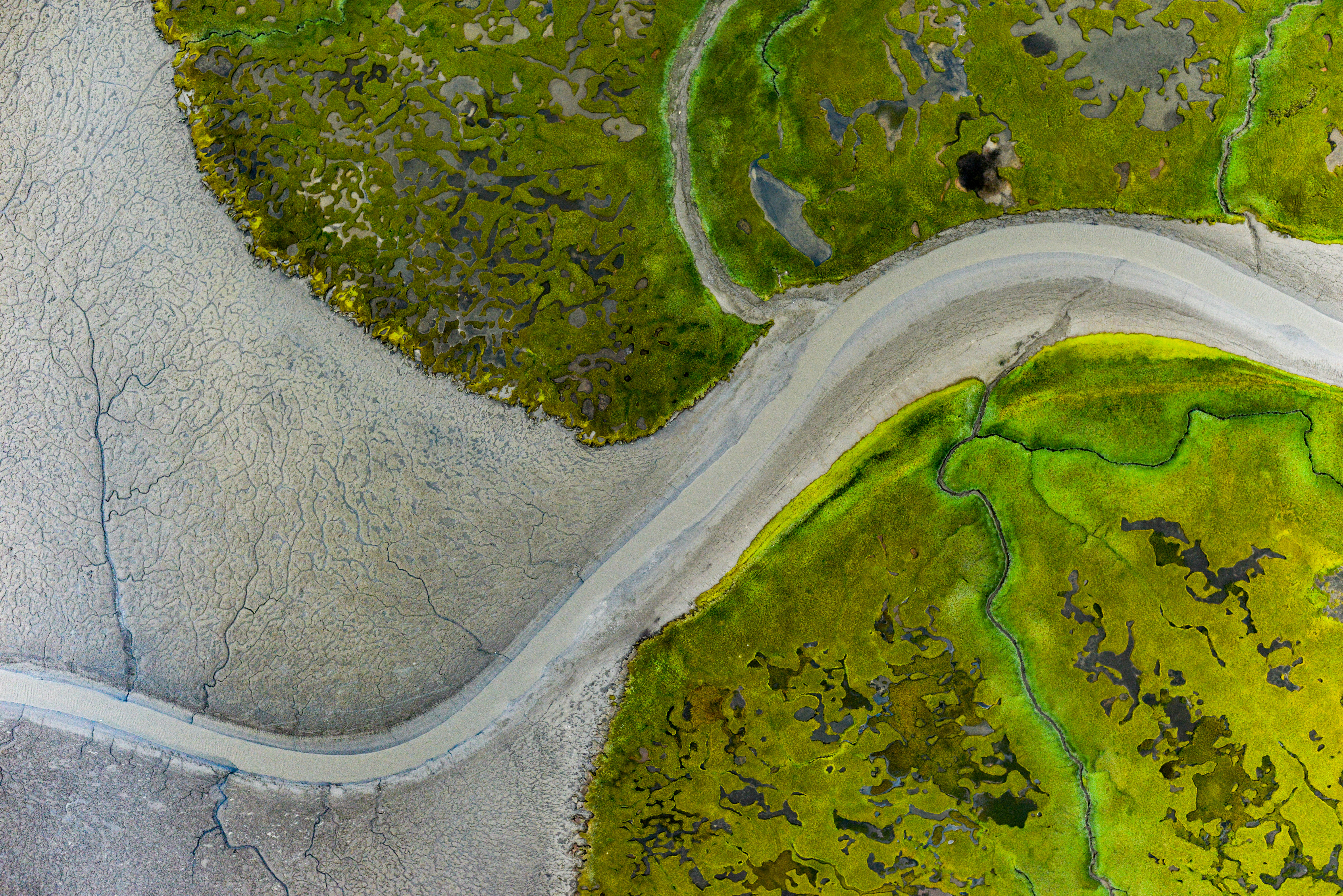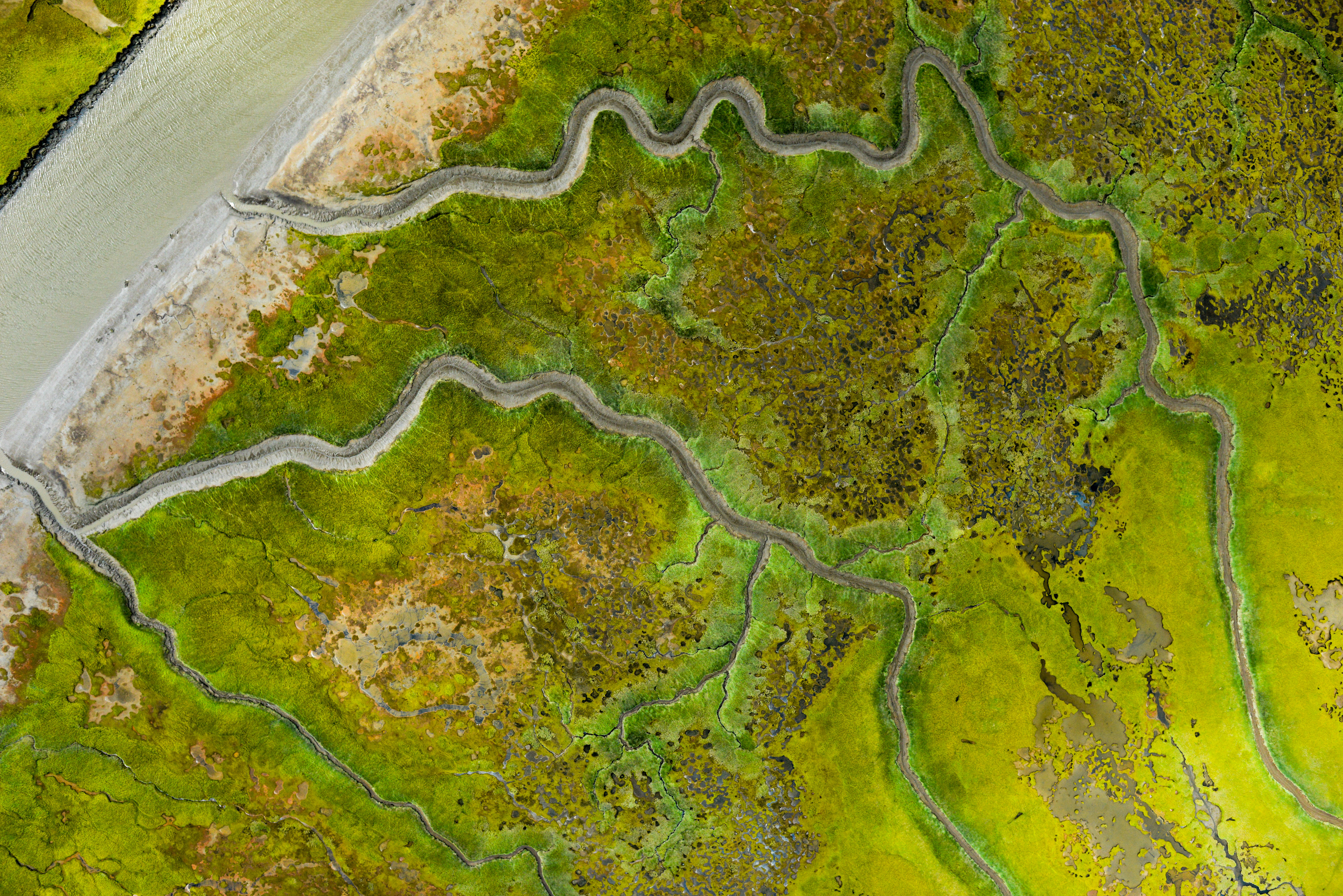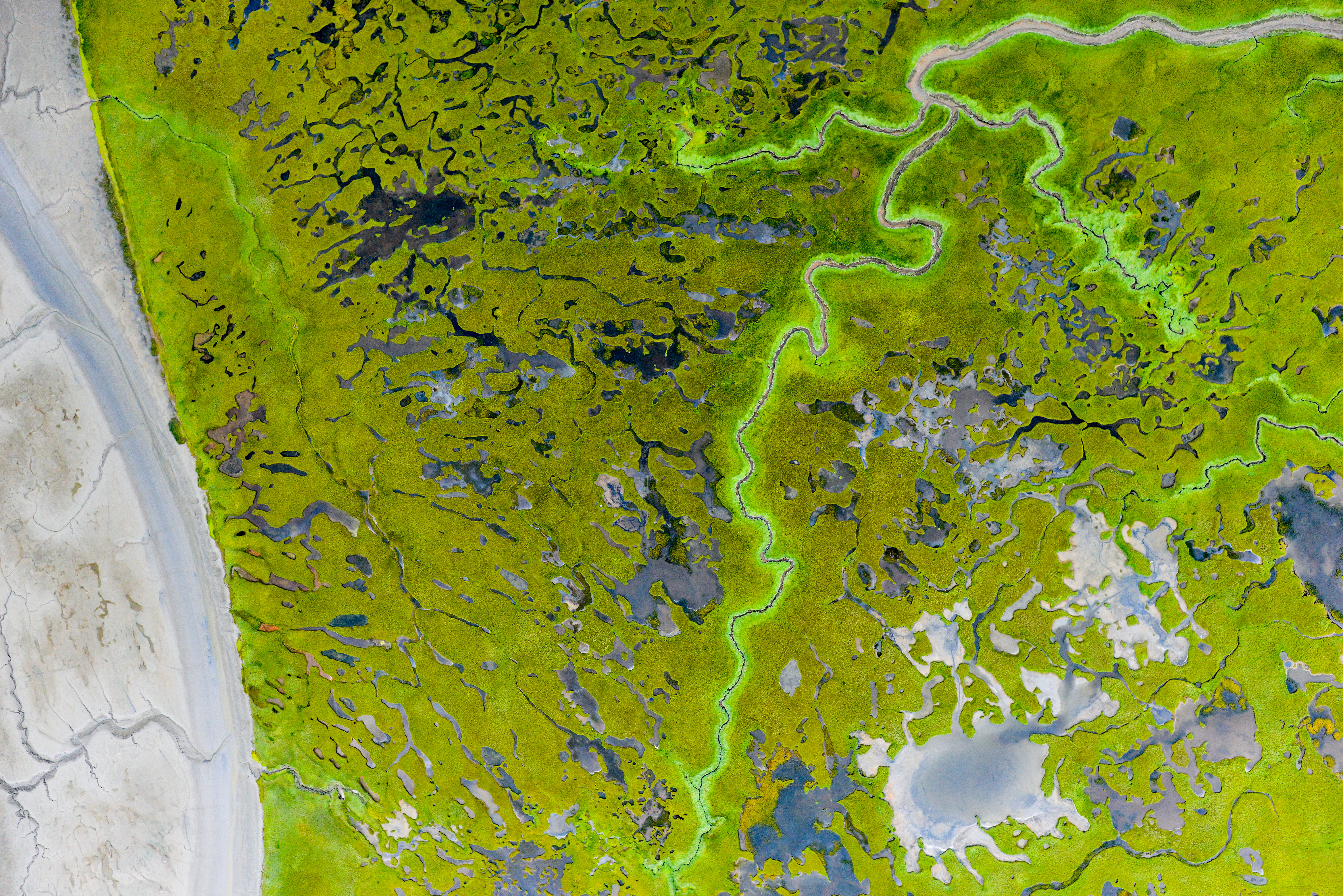 The yellow line is from today. Though not as much as I would have liked, if I could get this much done every day, I would be very happy.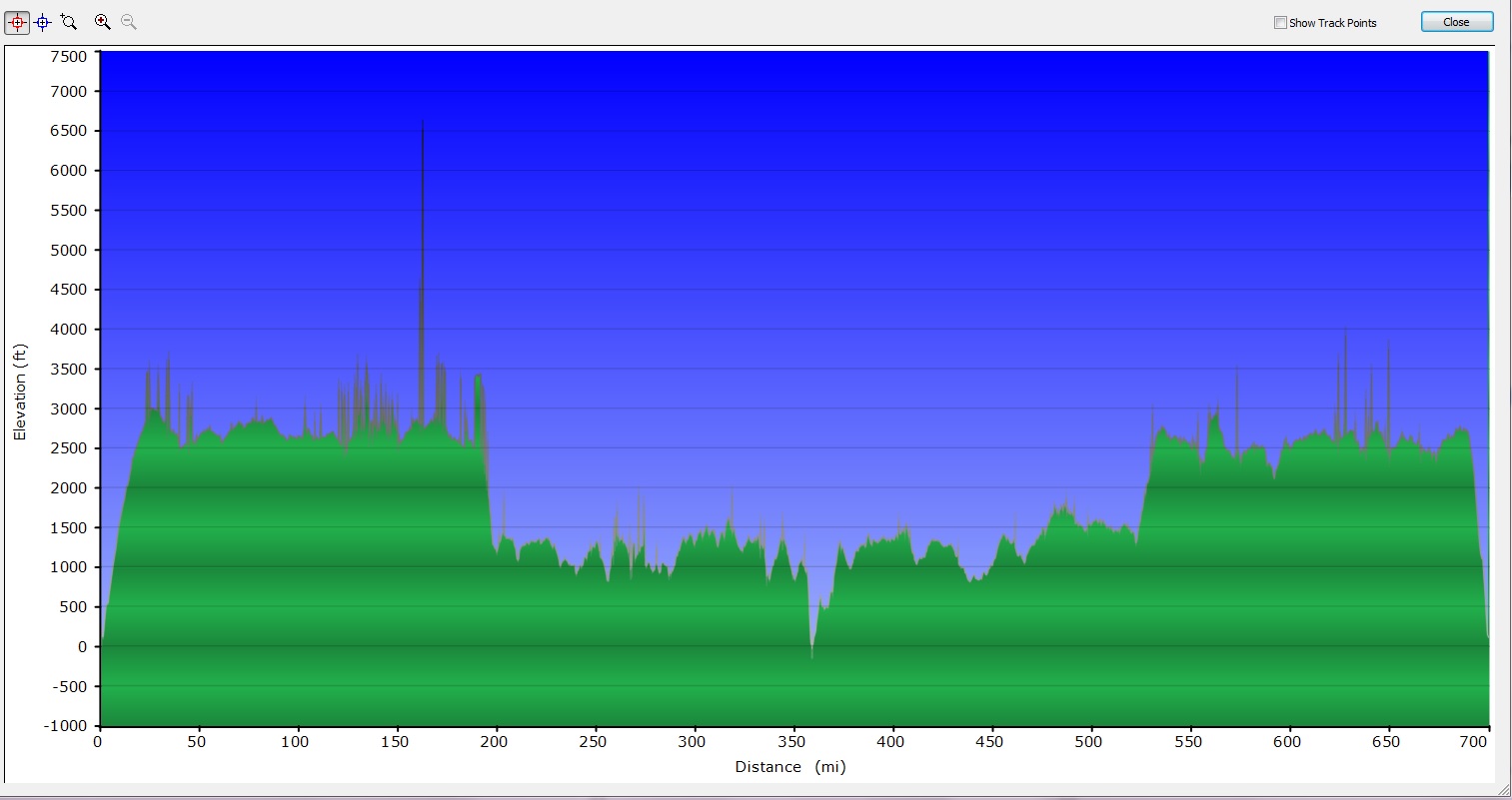 This is a profile of my flying height vs distance.  The cloud cover stayed pretty consistent during my route.  At about 360 miles is where I landed at Nightmute, and that's roughly the half-way point of the round trip seen here.  Over 700 miles and over 10,000 photos.  Just a drop in the bucket, but it's better than no drops at all…