Not Goodnews, great news!
Today marks completion of acquisitions of a continuous mile-wide swath of topographic measurements of Alaskan coastline from Wales to Platinum, plus some inland rivers, covering a combined linear length of about 1600 miles, at a spatial resolution fine enough to see your footprints, composed of about 150,000 individual photos.  For scale, that length is about the same as the Gulf Coast of the US (Florida to Texas) and that area is about size of the state of Rhode Island.  Except for a few villages along the way, this stretch of Alaska's coastline has not been mapped since before Alaska became a state, and these data are not only the best coastal data in the State but perhaps the country.  The project began last summer, with the remainder acquired in the past week (along with some additional regions added over the winter), and our hope is to process and deliver it all by mid-summer.
Yesterday began like every day here, with a 6AM weather check.  Despite predictions from the night before, it seemed that the last big chunk of coast to be mapped was in the clear.  There were six 100+ mile lines to do here to create a mile and a half width swath, leading to about 7 hours of mapping time, plus a 2 hour commute.  The increased width was handy because its so flat here and thus difficult to tell where the actual coastline is, as mudflats grade imperceptibly into tundra through much of it.  Leaving at about 9AM, my plan was to arrive back in Bethel after the fury of the typical afternoon thunderstorms had subsided.  That plan almost worked.
The coastal mapping went great.  It was clear and calm, reducing cockpit management to a periodic scan of instruments and allowing for ample time to take in the scenery. About mid-way, I landed in Hooper Bay to splash in the gas I was hauling inside to extend my range.  There I met a school group out for an afternoon of exploration.  I think you can tell a lot about a village from its kids, and these were all inquisitive and respectful, which I think says a lot of good things about Hooper Bay.  Time passed quickly in the air, and soon enough I had completed this missing link to create a continuous stretch of mapped coast from Wales to Platinum.  It was a great feeling.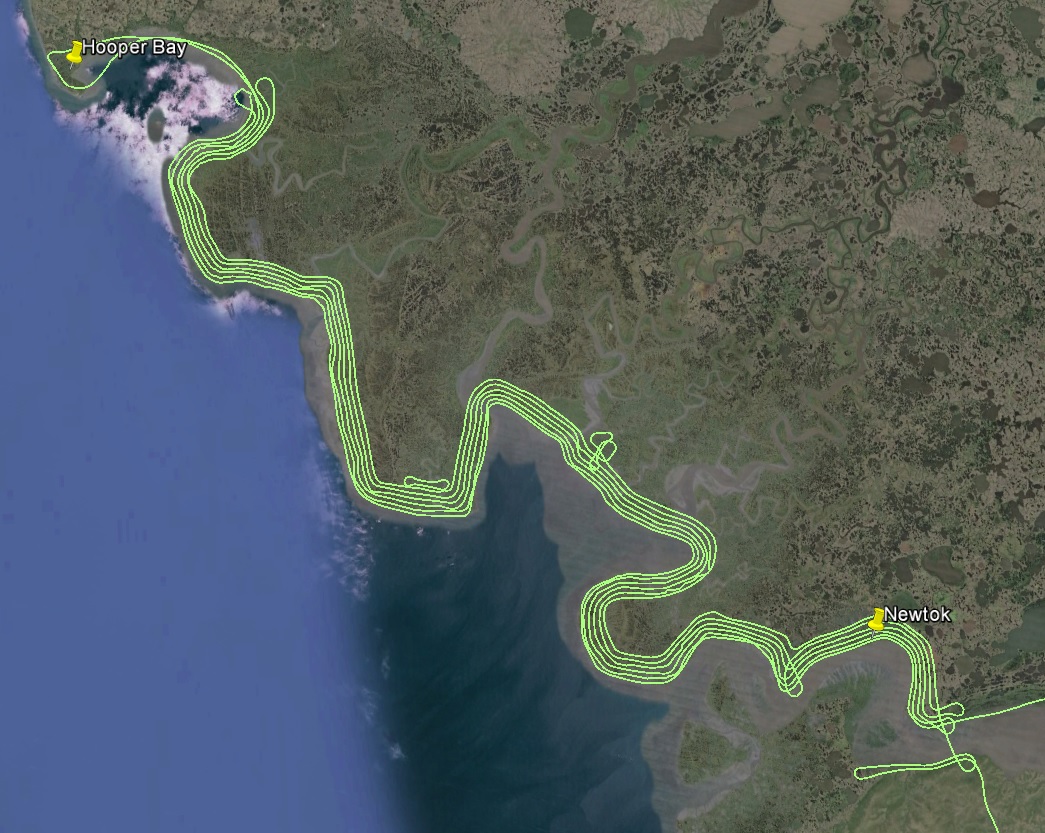 The last piece of missing coastline between Wales and Platinum.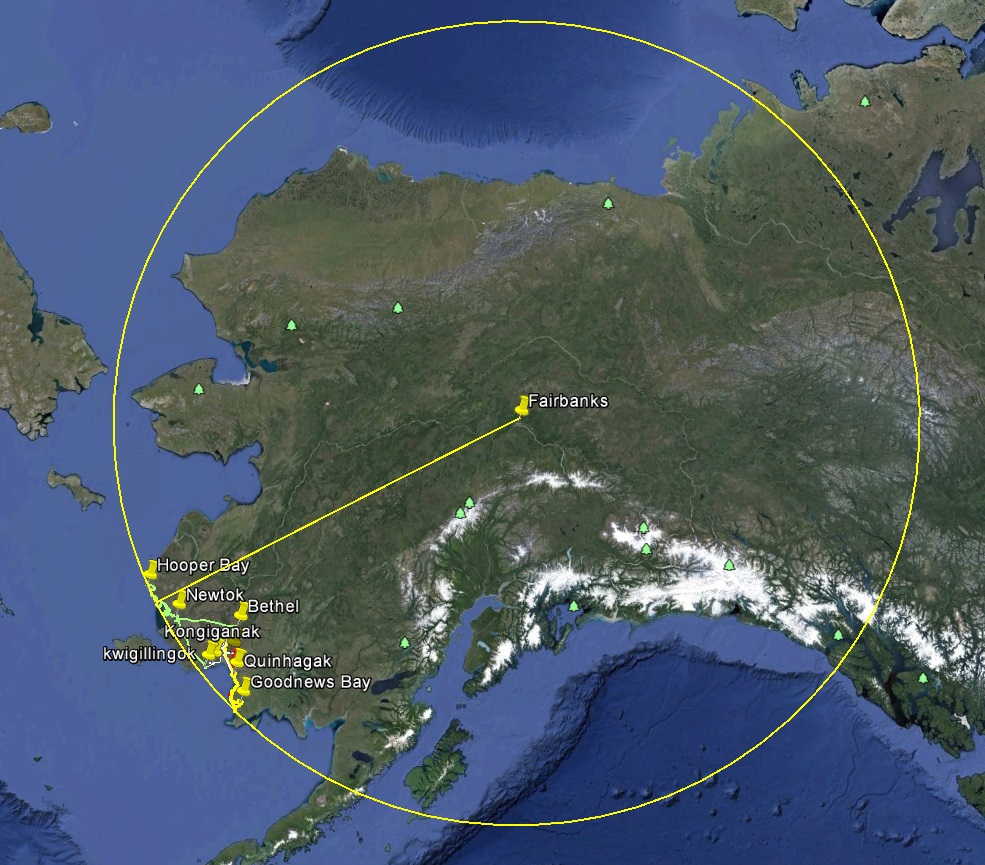 It just happens to be about the furthest you can get from Fairbanks and still be on the mainland of Alaska.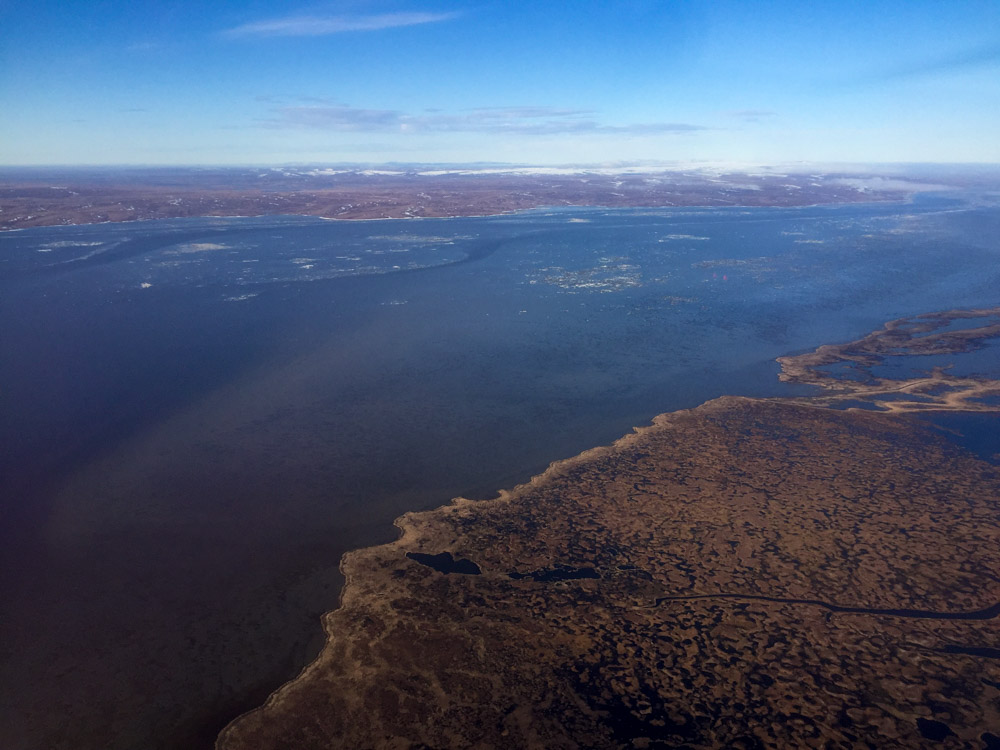 Looking towards eastern Nelson Island from around Newtok.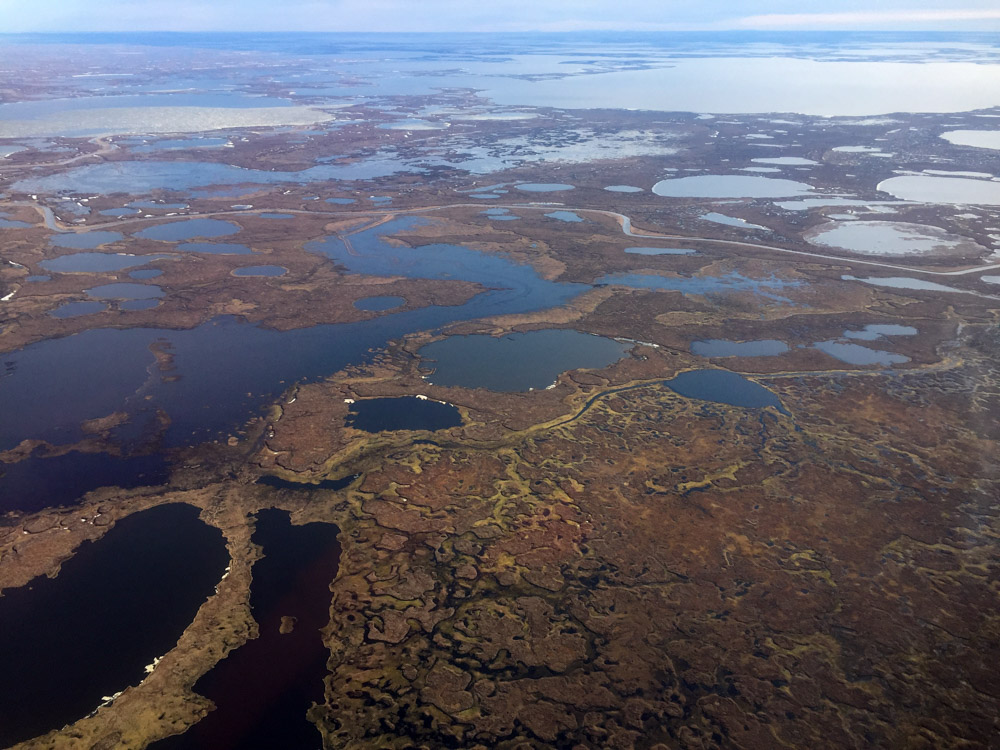 I think most people imagine Alaska to be all mountains and fiords, but I think much more of it looks like this.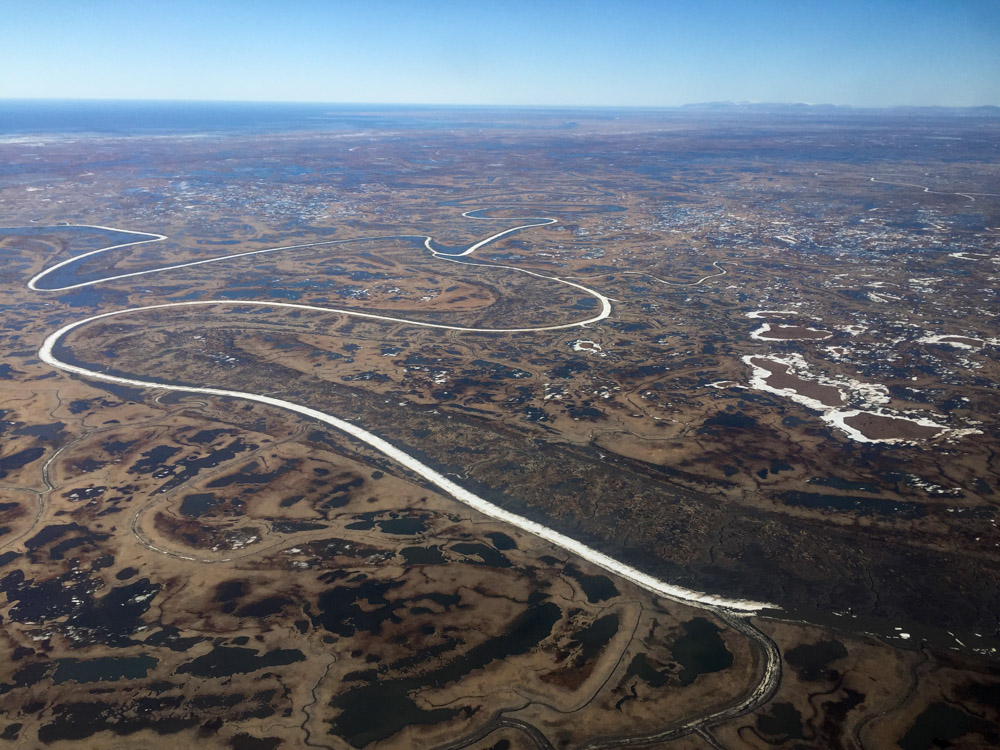 And this.

Hooper Bay.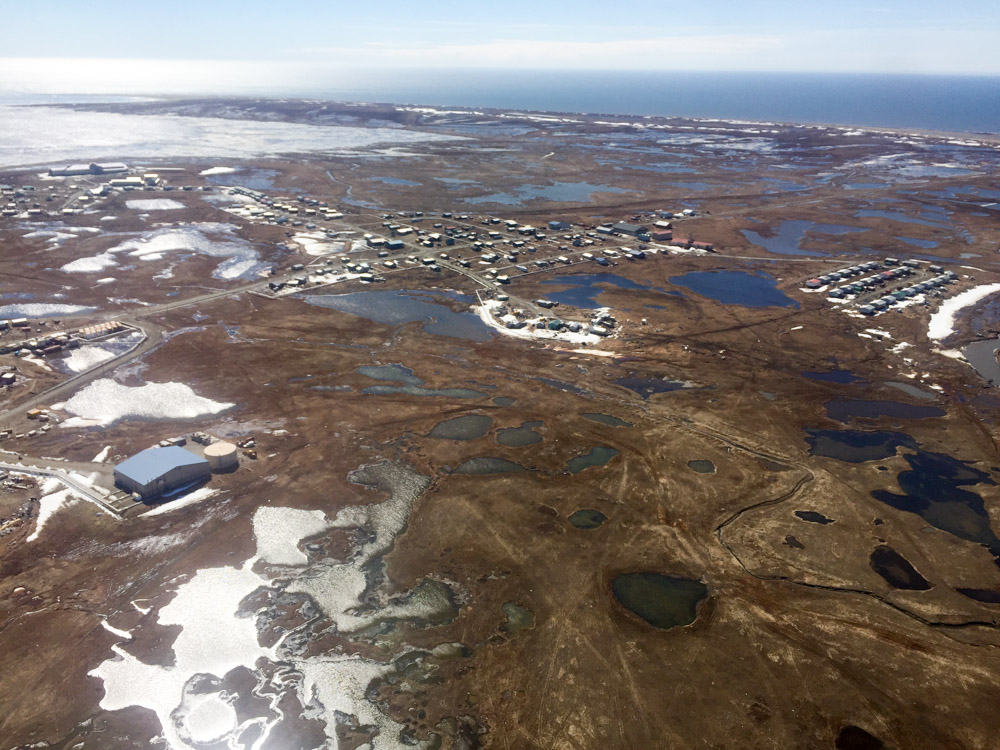 The friendly village of Hooper Bay.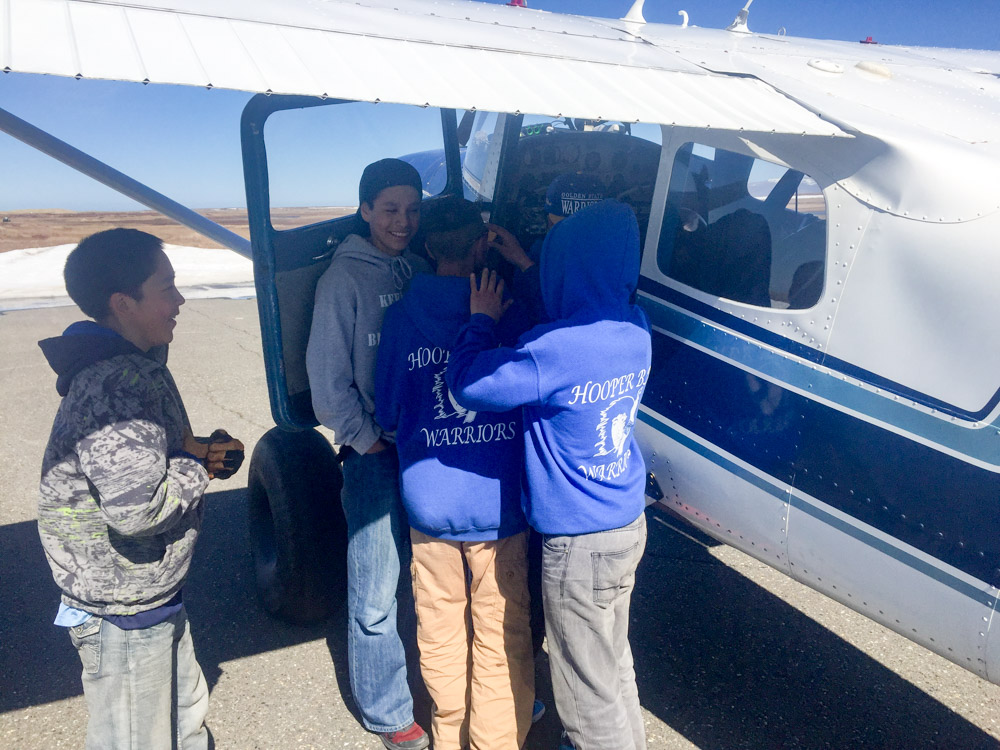 The friendly children of Hooper Bay.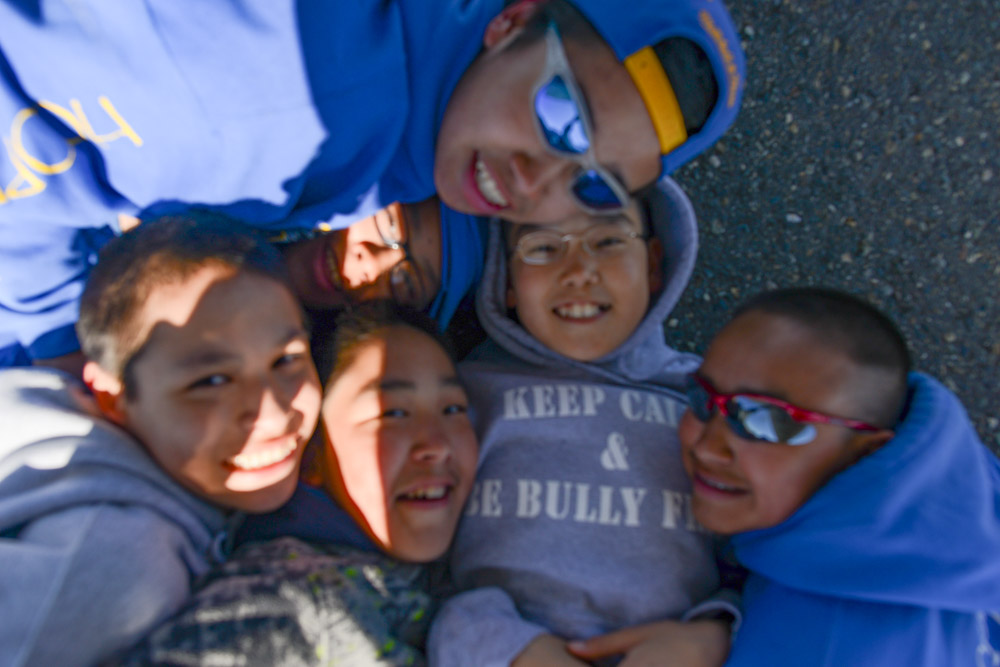 Everyone wants to be part of my maps.
By late afternoon, there were a few build-ups in the distance, but for the most part it remained a pleasant day.  With the air so consistent, I was able to economize on fuel and had about an hour's worth to tackle something else after I was finished with the coast.  I started to work on the north side of Nelson Island, which was the last thing on my list, but not far into it I was head on with some rain clouds, so I diverted to Kwig.
I had mapped Kwig on my first day of this trip, but a loose cable caused some glitches that I wasnt able to fully deal with in the air, so I thought I'd reacquire it.  For the most part it was smooth flying there, but as I approached I realized that the only serious, energetic cloud in the area was right next to Kwig.  It was by now after 6PM and I had thought the clouds would all be losing energy, but this one was still building.  Fortunately it was parallel to my flight lines, so I started at the far side and worked my way towards it while it slowly moved towards me.  The game of chicken was on.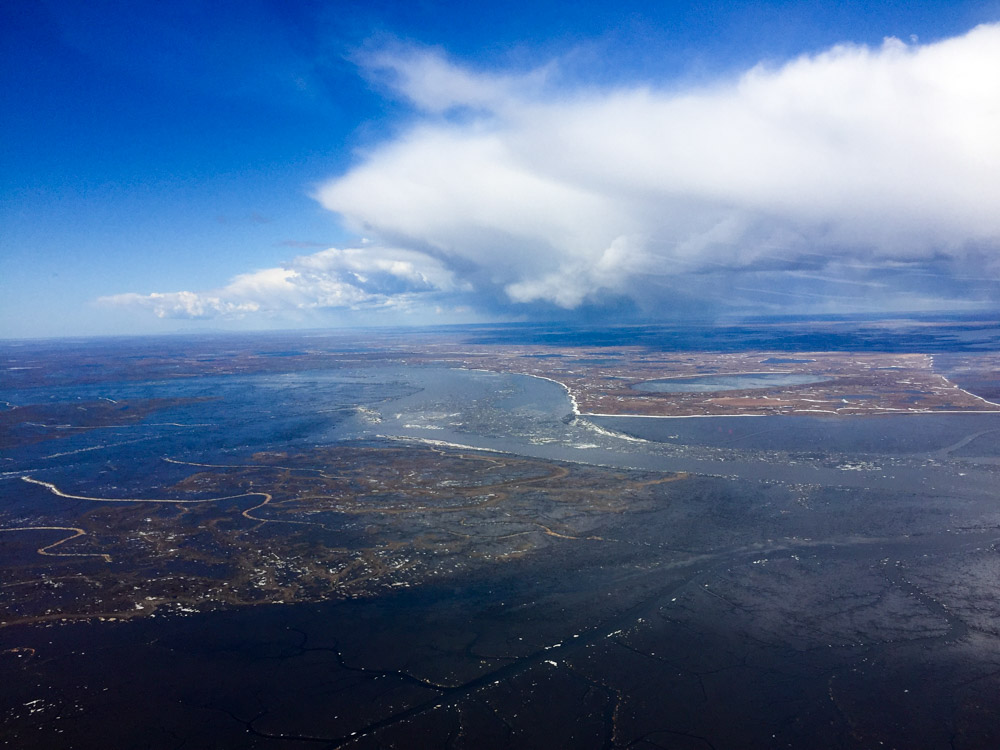 For the most part, the buildups were inland and stayed out of my way.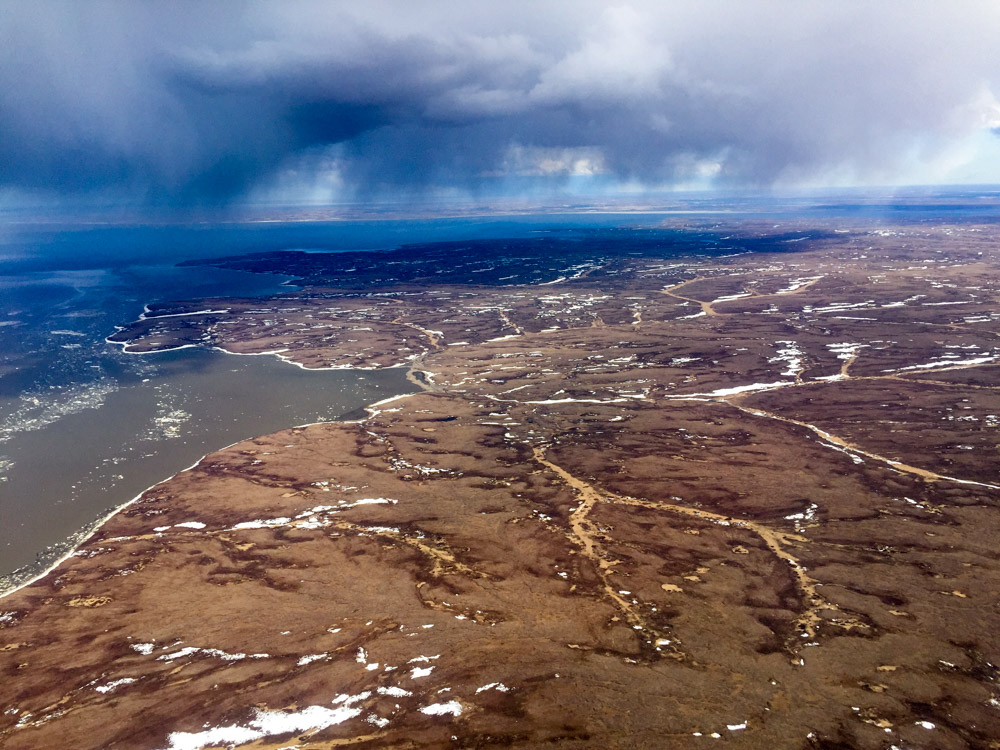 This one got in my way when I tried to map the back of Nelson Island.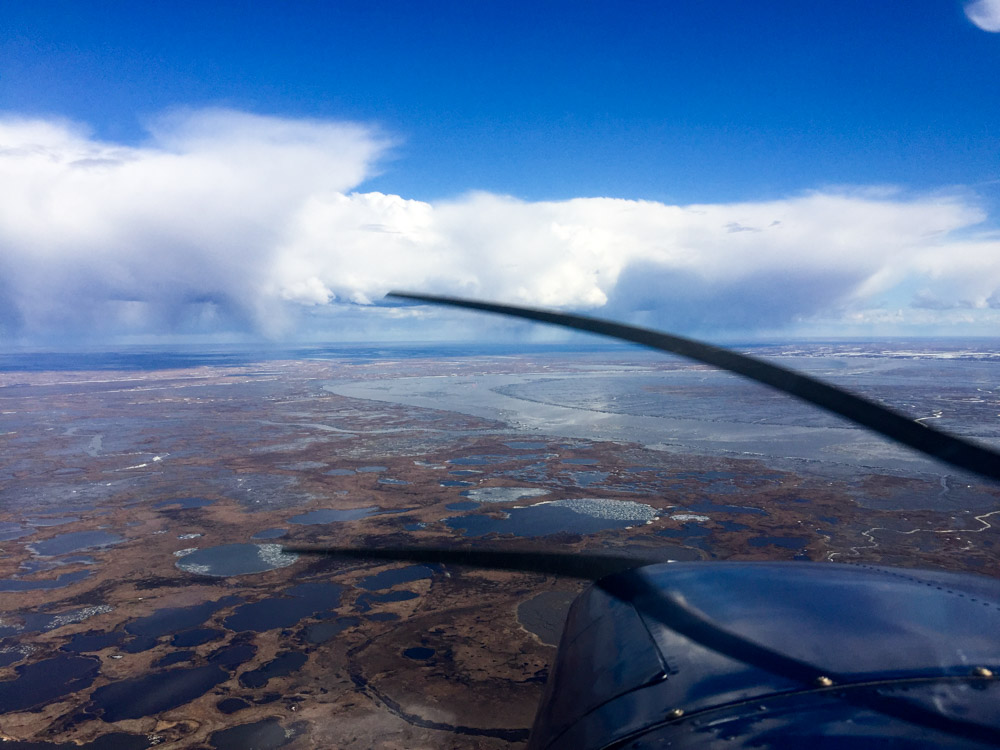 The only big one further east was this one.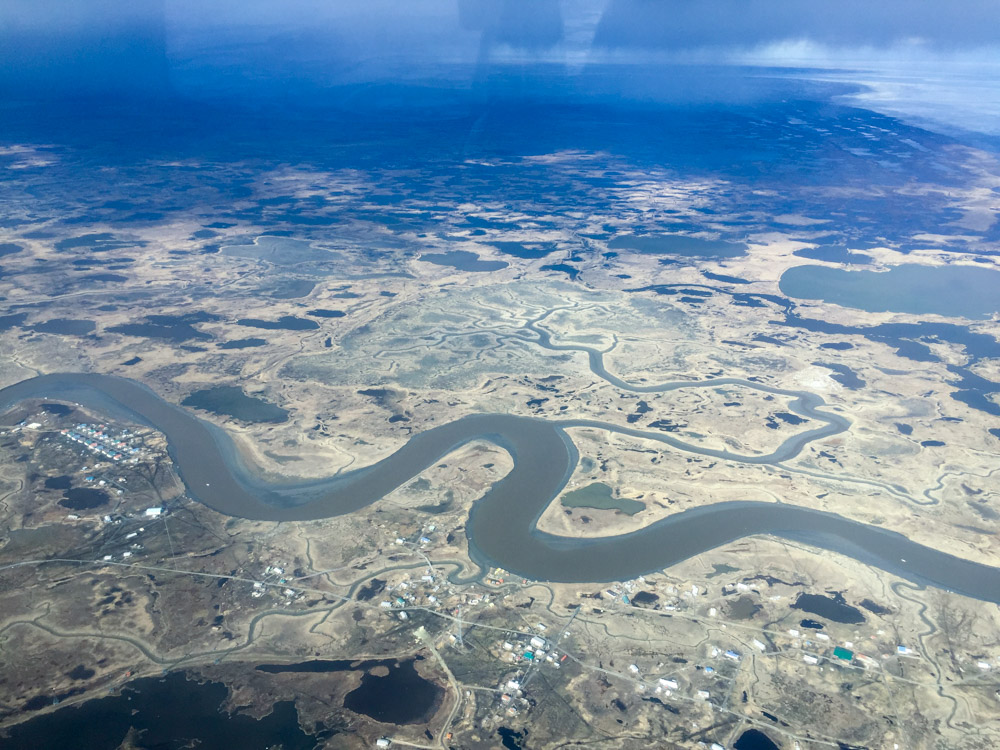 Unfortunately it was directly adjacent to Kwig.

Fortunately the sun was on the right side of the cloud, so Kwig was nicely lit.  The first half of the lines went well, but as I got closer to the cloud, the air was approaching moderate turbulence in places.  By the next line, I was beginning to have serious doubts about the intelligence of continuing.  As I finished the second to last line, the cloud made lightening and I decided not to call its bluff, pointing my tail directly away from Bethel and giving it full throttle.  Though I missed that last line this time, I had already got it last time and my line spacing has so much overlap that I dont really need it anyway.  All in all it was quite a successful and productive day, covering over a thousand miles in 10 hours of flying, mapping the last piece of the coastal puzzle with over 8000 photos.  One more day like this and I would be done!
Today once again began with a 6AM weather check.  Fortunately the weather was crap everywhere so I was able to catch up on sleep.   About 10 AM I made my way down to the airport, intending to pace circles around the plane until the weather broke.  I spent some of that time also hanging out with the good folks at Renfro's and changing my oil.  By about 2PM the fog had turned into what appeared to be a solid ceiling, though only about a thousand feet high.  More importantly, weather cameras near the last target changed from complete fog to nearly clear skies.  My fear with launching now was that the 1000′ ceiling at Bethel might return to a 100′ ceiling before I made it back 6 hours later.  But the forecast was for improving weather and in the worst case I could spend the night with my new friends in Hooper Bay, so I went for it.
The ceiling didnt lift much until I got close to the site and even then it didnt lift much.  The cameras of course werent located exactly where I needed to go, which was the backside of Nelson Island.  Here the north side of the island still had some snow and it was surrounded by a huge waterbody that looks like a like but I think is really a tidal bay, though the connection looks like a river.  In any case, a low, thin overcast persisted there, but it was high enough for me to map, though lower than I planned, but it was definitely carb heat country.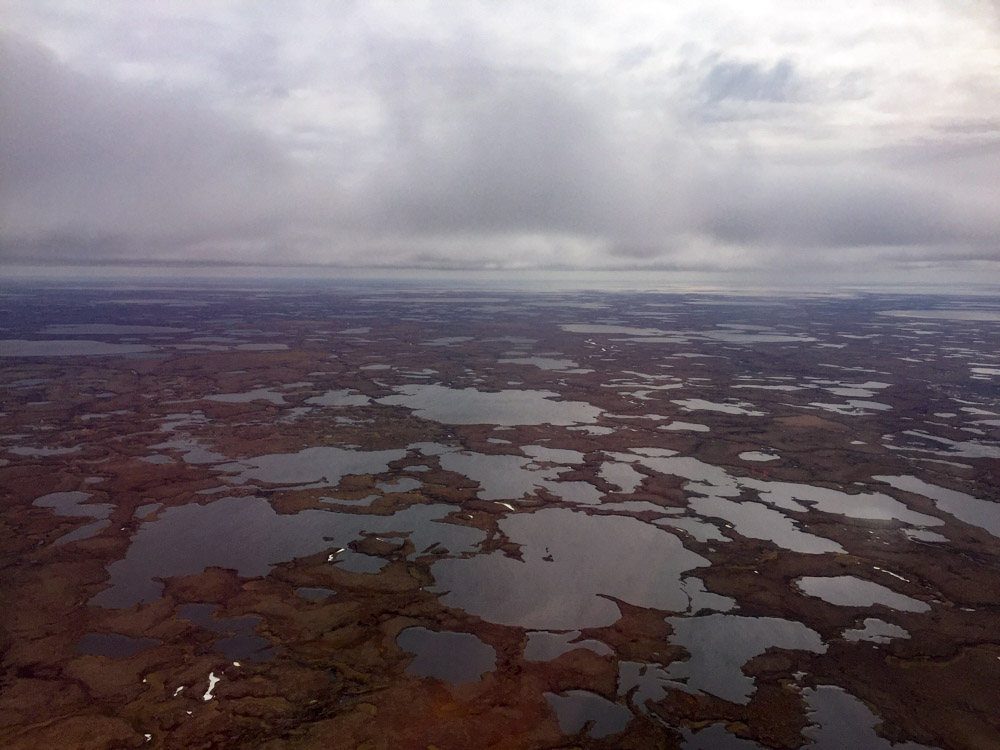 The ceiling was workable, but low.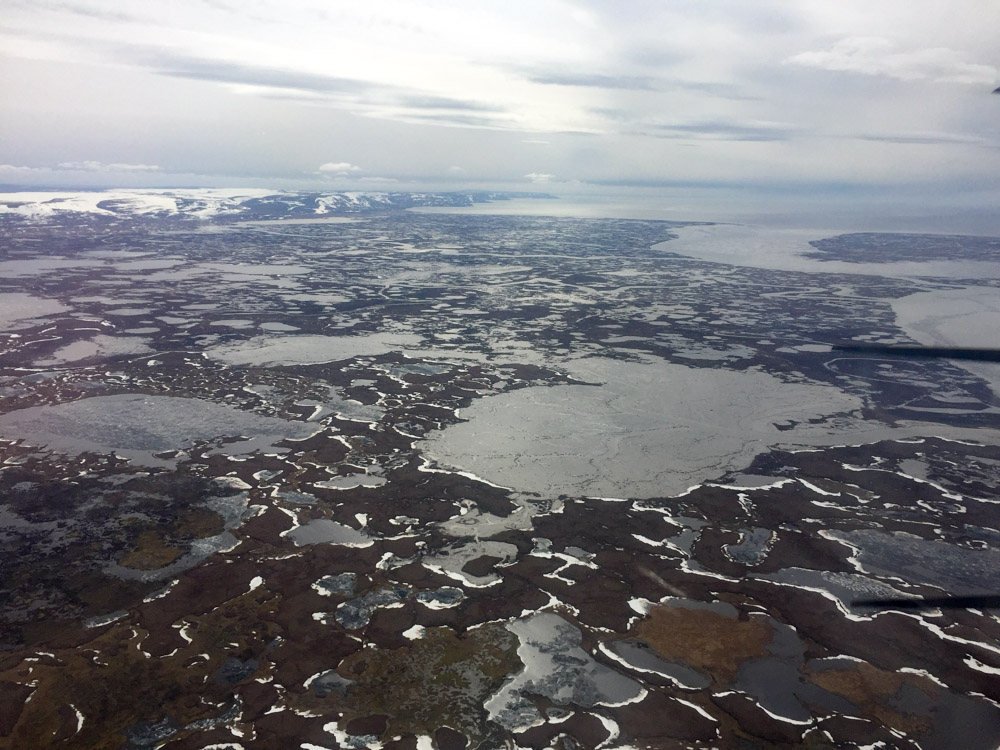 Approaching the northeastern side of Nelson Island.
The mapping went well enough, though as time wore on the ceiling was lowering and a bank of mist and fog began working its way in from the coast.  Every pass I made in that direction got stopped a little shorter, as I entered the mist right at freezing, watching the drops linger on my wing strut as if they wanted to stay attached and invite their buddies to join.  Not being very experienced with the weather here this time of year, my concern was as before that as sun got lower, the temperature-dew point spread would just sprout fog everywhere all at once, as it seemed to be doing along the coast.  By now I had gotten at least two passes along all of the water bodies, and four to six on most of it.  I needed another hour to flesh out the remaining inland lines, but cowardice seemed like the right option at the time and I headed for home.  The forecast here was for ridiculously bad weather to develop over the next few days and I made the command decision that with priority work completed here (an accurate map of the mean high water line) that I would chalk up the small bit I missed to my barely-used cloud cover allowance, as what chased me out of there definitely fell into that category.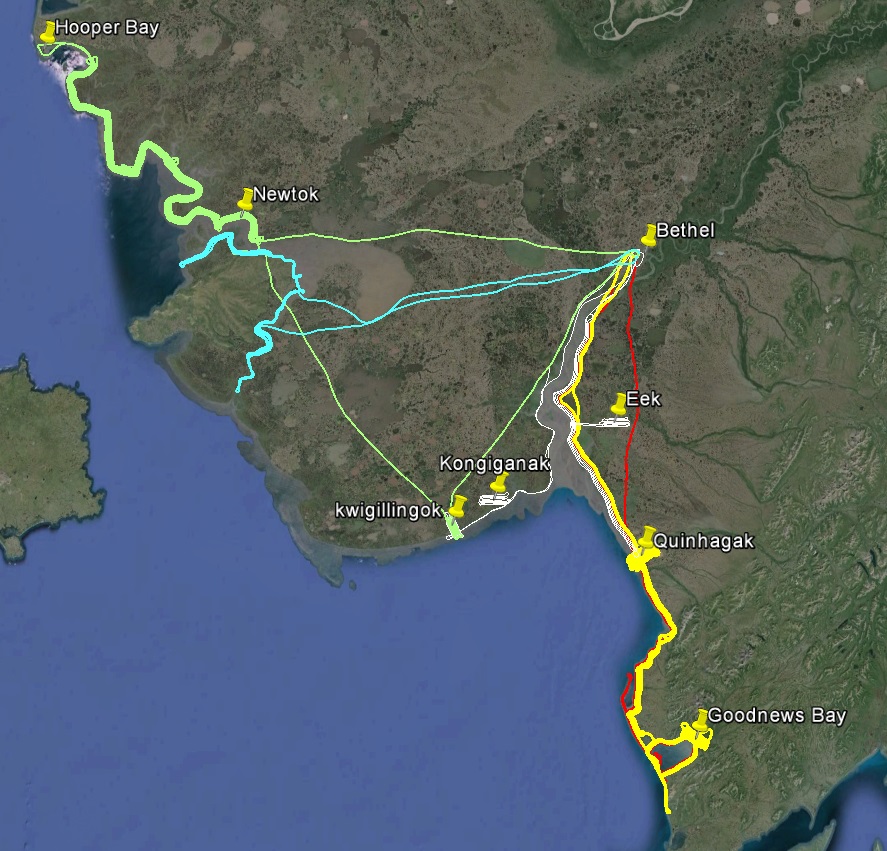 Today's lines are in light blue.  The large lake southeast of Newtok is actually a tidal inlet, I think with the main tidal influence to the west but perhaps also to the south.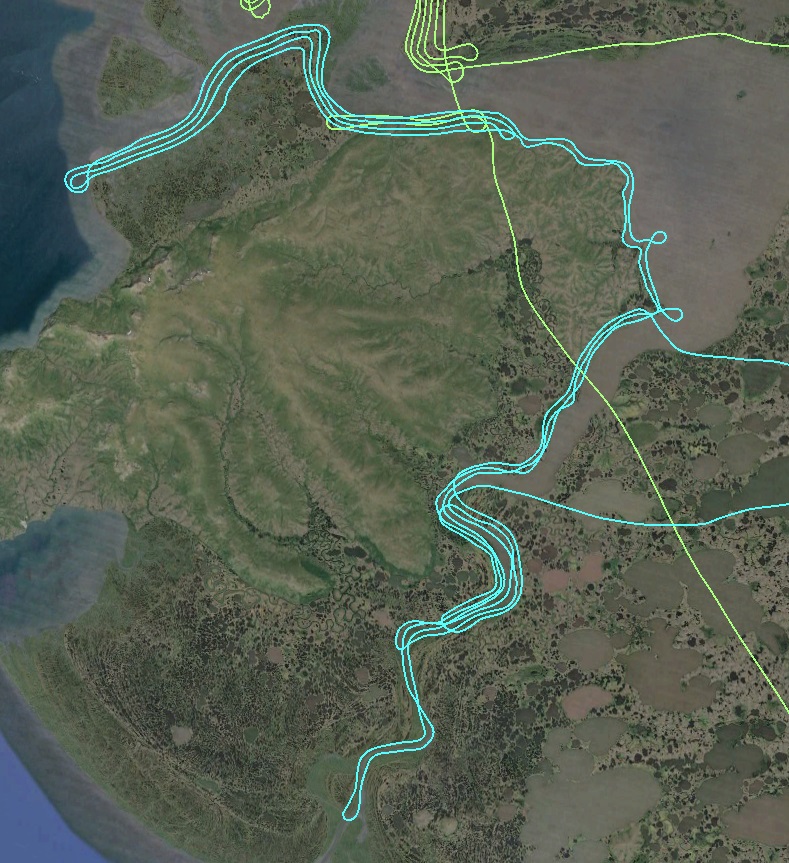 With each pass south towards the coast, the misty fog was pushing northwards, causing me to turn around sooner.  But I had mapped this lower area last year.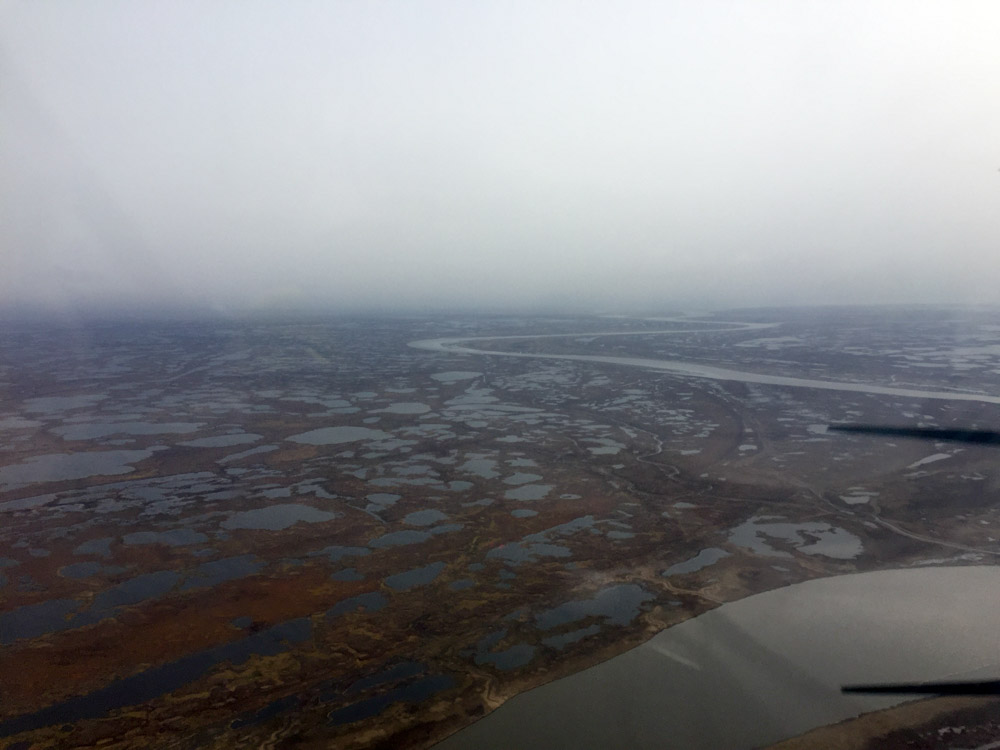 Almost made it to the coast on the first pass.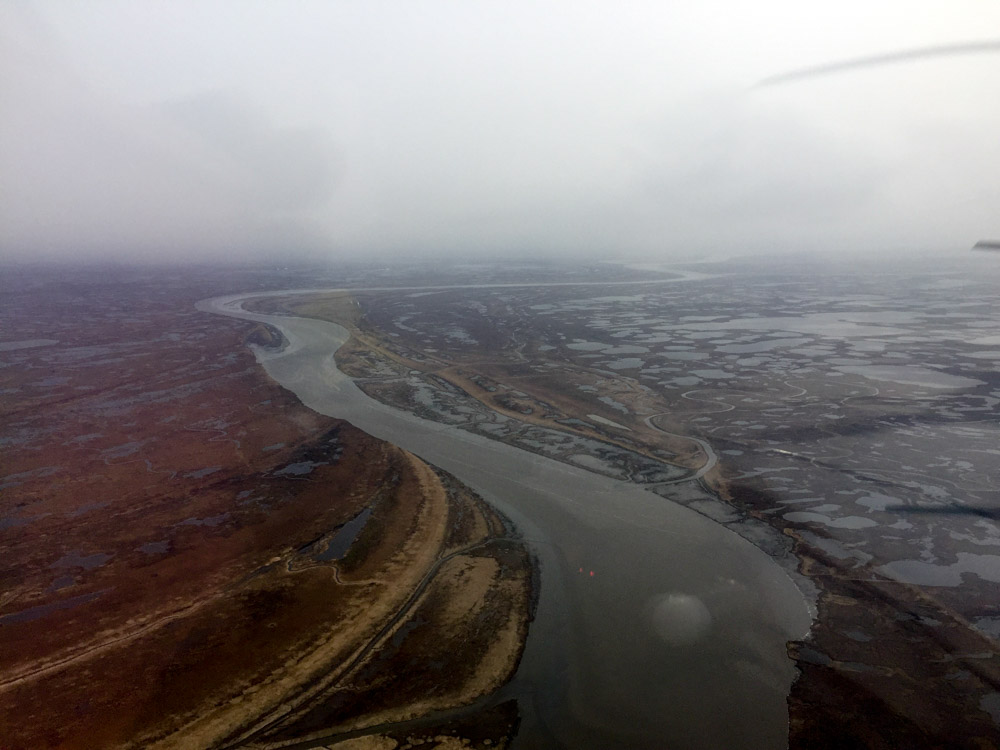 Not quite as far the second time.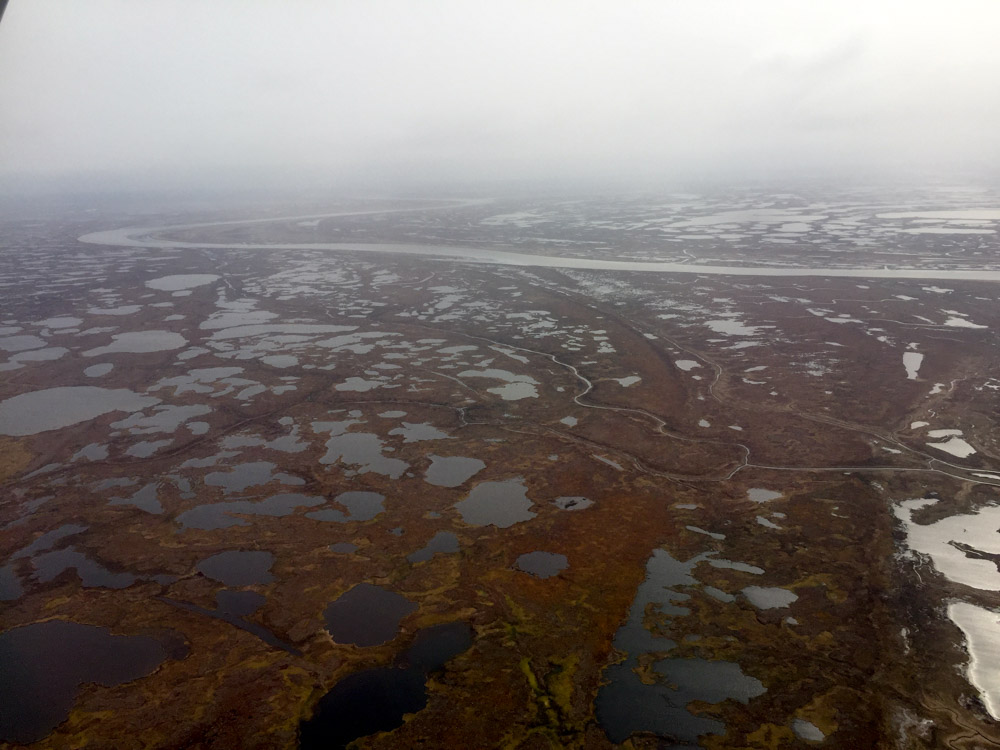 Third time I decided it was time to get out of there.
Flying home, trying to stay ahead of the fog, I realized that this might be the last time I'm down here for a while.  Though the weather keeps me on my toes, I really like flying out of Bethel.  Perhaps it is because the weather keeps me on my toes.  While I would always take a clear, calm day over the alternatives, fighting the weather successfully means understanding it well enough to predict it and respect it, and I've had to fight my fair share of it.  Nothing like the local pilots, but in some sense much more, as the weather criteria for getting from point A to B are much different than those trying map a swath from point A to B.  In any case, I have nothing but fond memories of flying here, though I understand intense fear does tend to cause short-term memory loss…  My only real regret from the project is that I didnt finish up early enough tonight to make it to McGrath before dark, as I was really looking forward to celebrating the end of the trip there just like last year.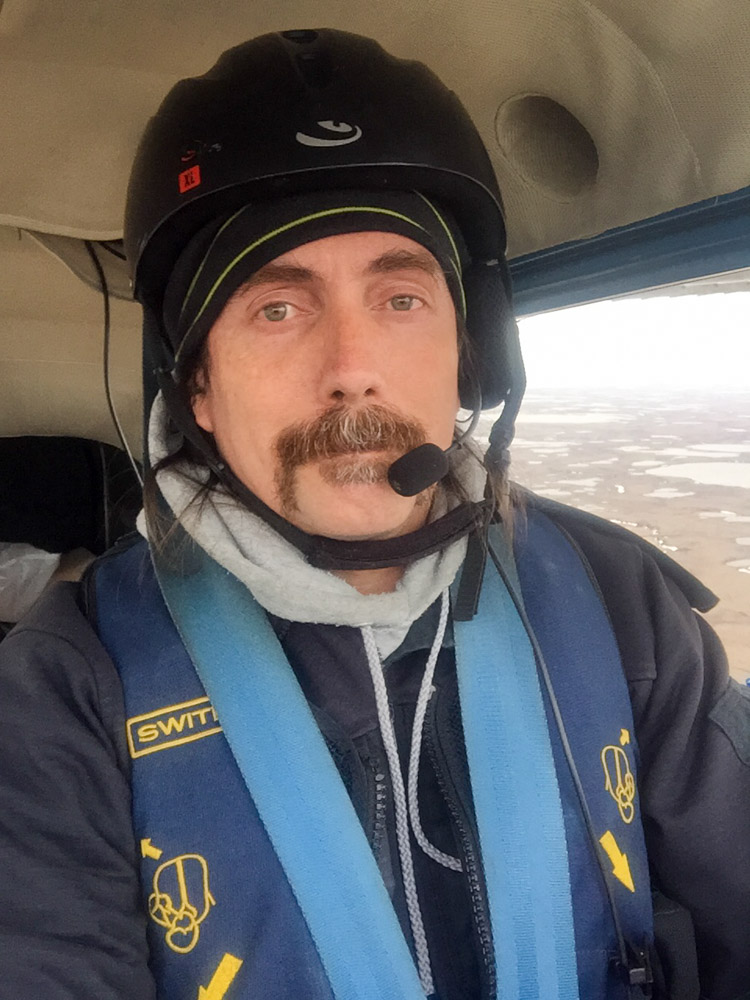 "Have helmet, life jacket, fireproof clothes, and fodar system — will travel."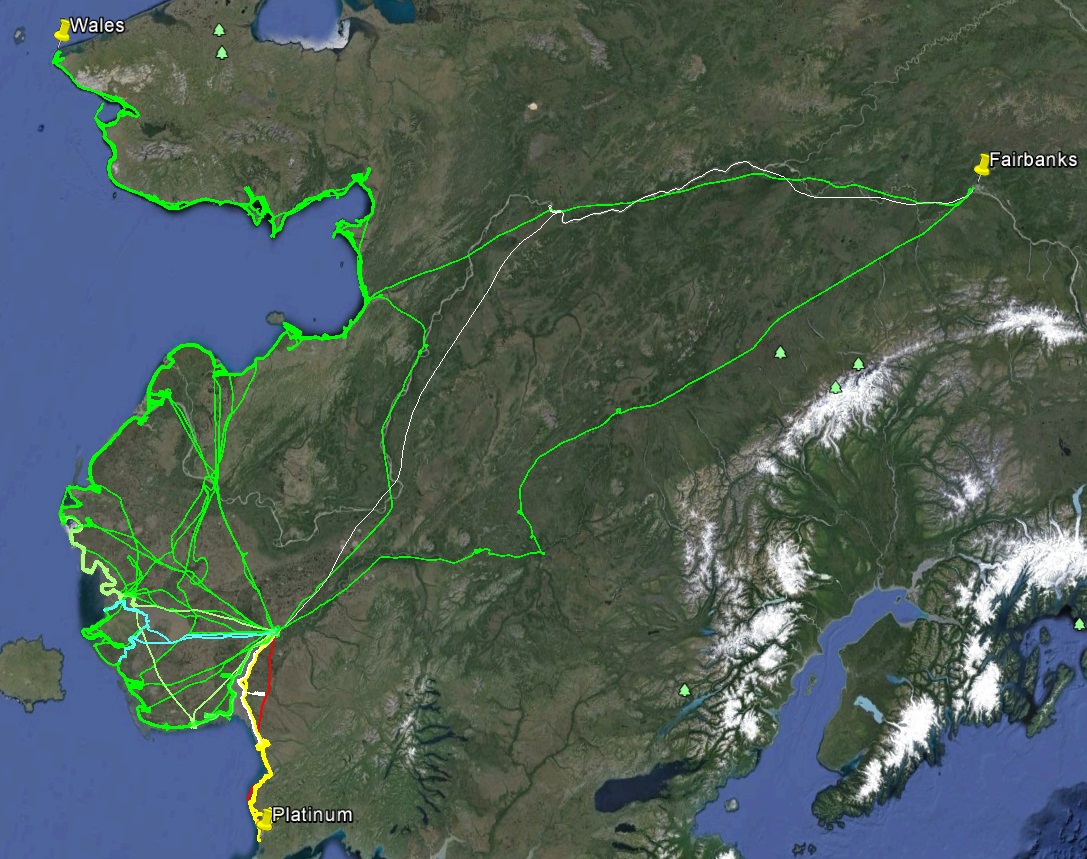 All of my flight lines for 2015 and 2016 for this project — mapping a mile-wide swath about 1600 miles long.
A selection of photos from yesterday.