Goodnews! Sort of…
Today I mapped the coast from Bethel to Goodnews Bay.  Sort of…
Like most field work, weather is everything.  For the past several days there's been a huge trough spanning the entire state causing foggy weather along the coasts and thunderstorms inland.  So I spent the past two days in the hotel catching up on sleep, processing photos, trying to ignore the rest of the world, and watching the weather for any small breaks.  This morning I awoke to fog once again, but there was clear blue sky above it and the weather reports from the directions I wanted to head showed clear skies as well.  So I hurried down to the airport, got the plane fueled and prepped, and then sat in the fog for several hours.  Actually I sat in the lounge with the good folks at Renfros, where I reconnected with some old friends from last season and could tag team checking on the weather every few minutes.
About noon it finally lifted to legal minimums, and in retrospect there was no need to check weather because all of a sudden it sounded like a Formula 1 race starting with all of the backed up traffic launching.  For me what had been clear skies to the south were becoming overcast, but it still seemed good enough, so once the rush was over I lumbered off in pursuit.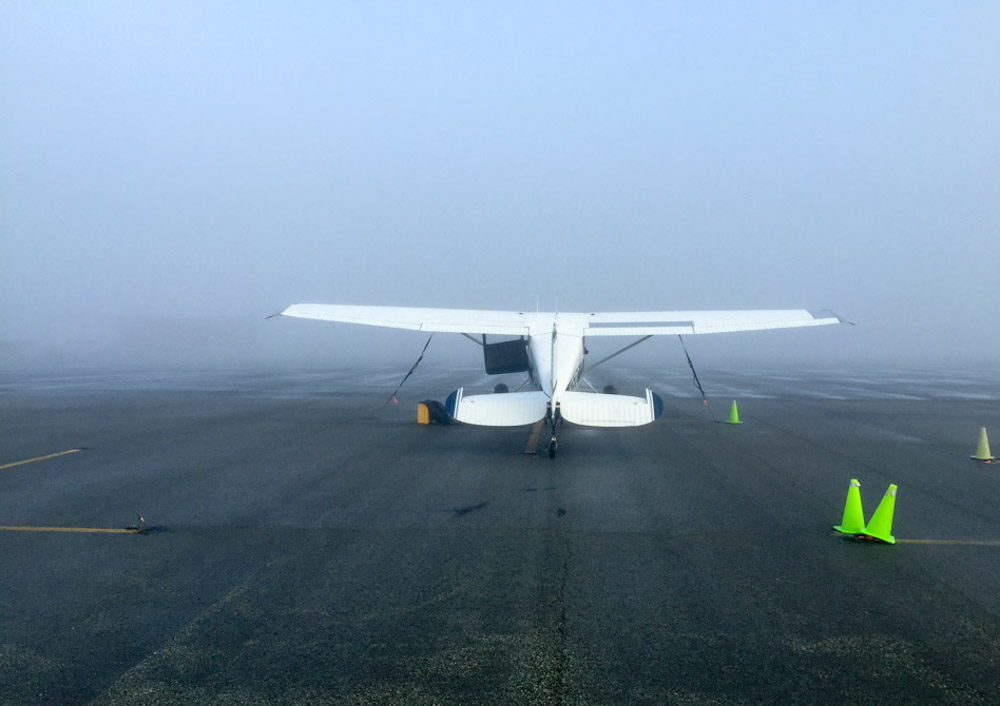 Fog as thick as peanut butter…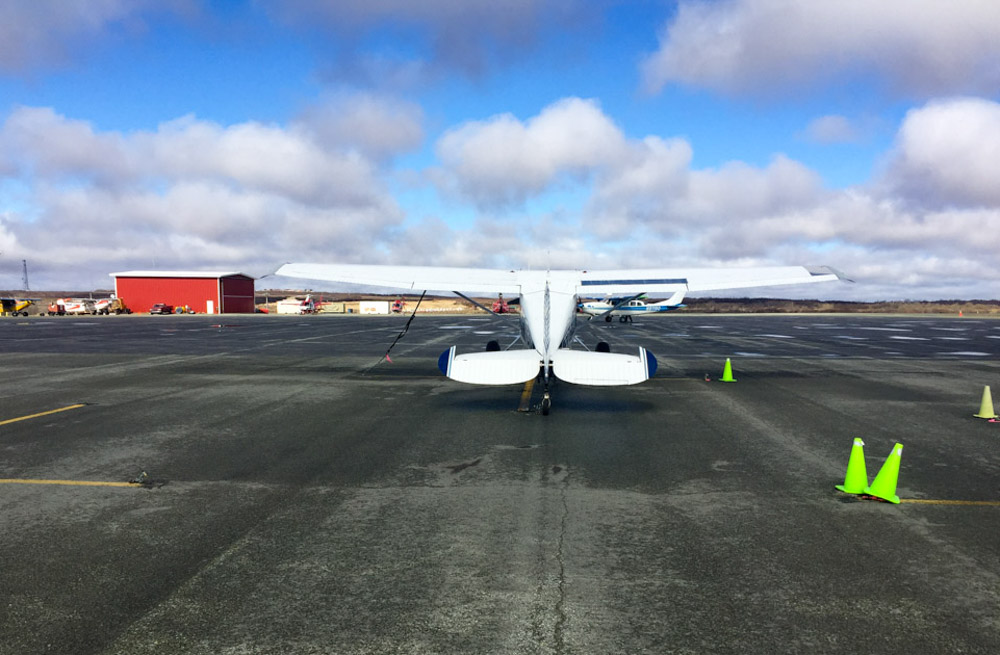 The coast south of town still had a low fog layer, so I wasnt able to pick up my lines from a few days before right away, but met up with them at about Quinhagak where I began laying fresh tracks along the coast down to Goodnews Bay and Platinum.  The weather wasnt great.  There were droopy clouds in my way and puffy ones building up on the hills to the east.  I probably should have turned around, but I wanted to get at least the coast down to Platinum done today because the tides start getting worse from the next week.  Flying low on the first pass doesnt add much extra flying because I'm just getting the coast itself and the next line inland duplicates it anyway, but if I have to fly the that second line low then I'm adding more lines  overall.  So I was hoping the weather would improve on my return so I could fly higher.  Unfortunately the opposite occurred.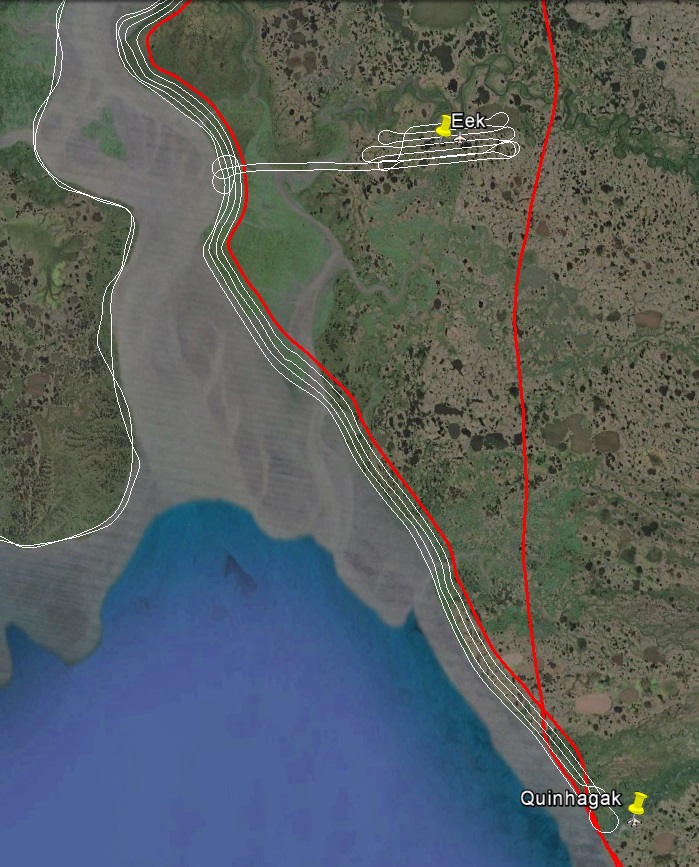 Red lines are from today, white from three days ago.  Bit by bit…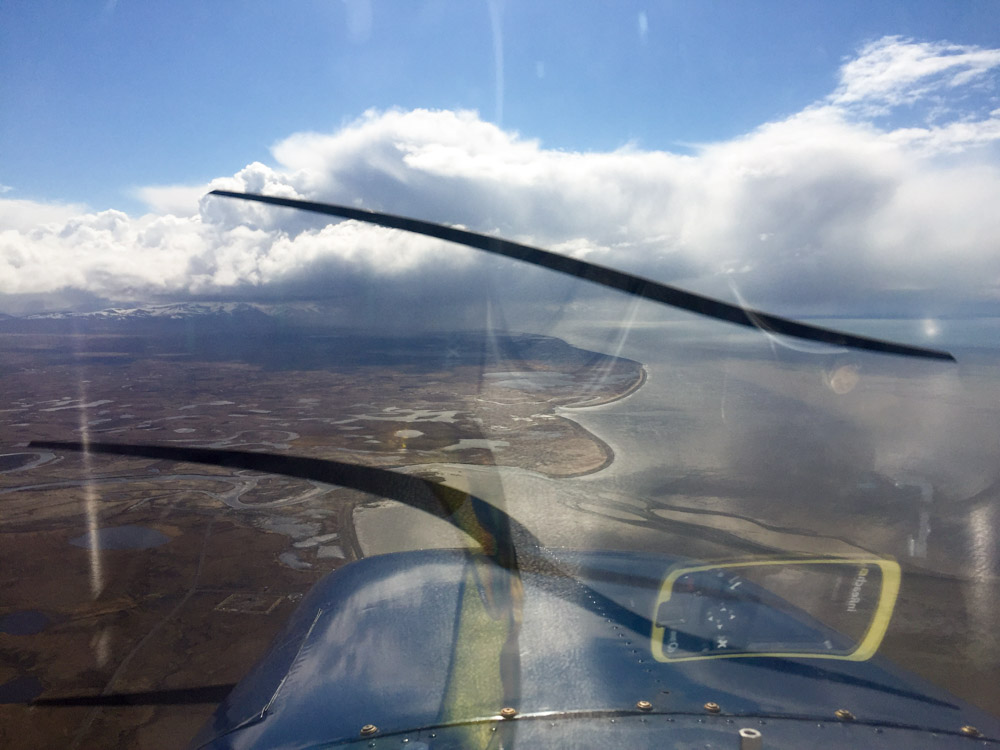 Goodnews Bay looks like a beautiful place, and I'd like to go back there sometime when I could see all of it at once.  The clouds were descending and closing in as I approached, and I was flying through rain and snow squalls.  Here there is a bit of terrain too, right on the coast, so some extra care was needed.  I needed ultimately to make six laps around the bay and map the town of Goodnews, so I was planning to be here a while.  However after being sucked up into the clouds a dozen times, constantly cycling the carb heat, adjusting the exposure on the fly to compensate from emerging from under a near-dark raincloud into brilliant sunshine and back again, trying to fix minor cabling issues behind my back, dealing with traffic, trying to remember where I dodged a cloud on the last lap so I could pick up the spot again on this one, ducking under a cloud then trying to climb back up behind it — I decided two laps were enough for the day and headed back towards Bethel, thinking the day would still be a success if I could at least get the coast done and free myself from the tide schedule here.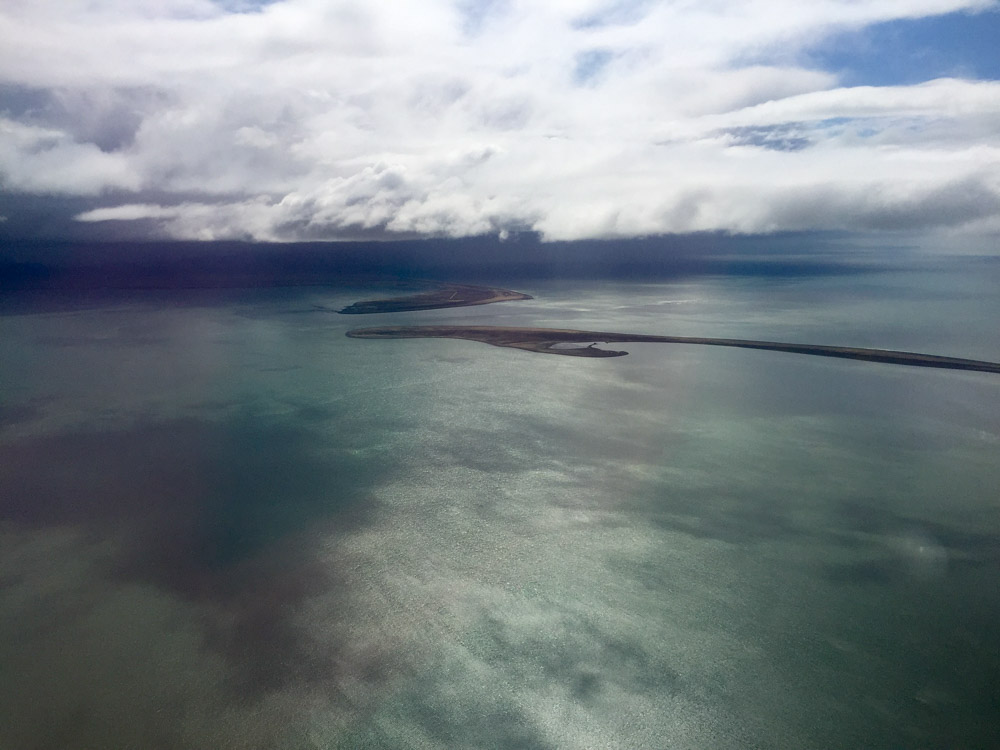 The south side of Goodnews Bay about the time I got chased out of there.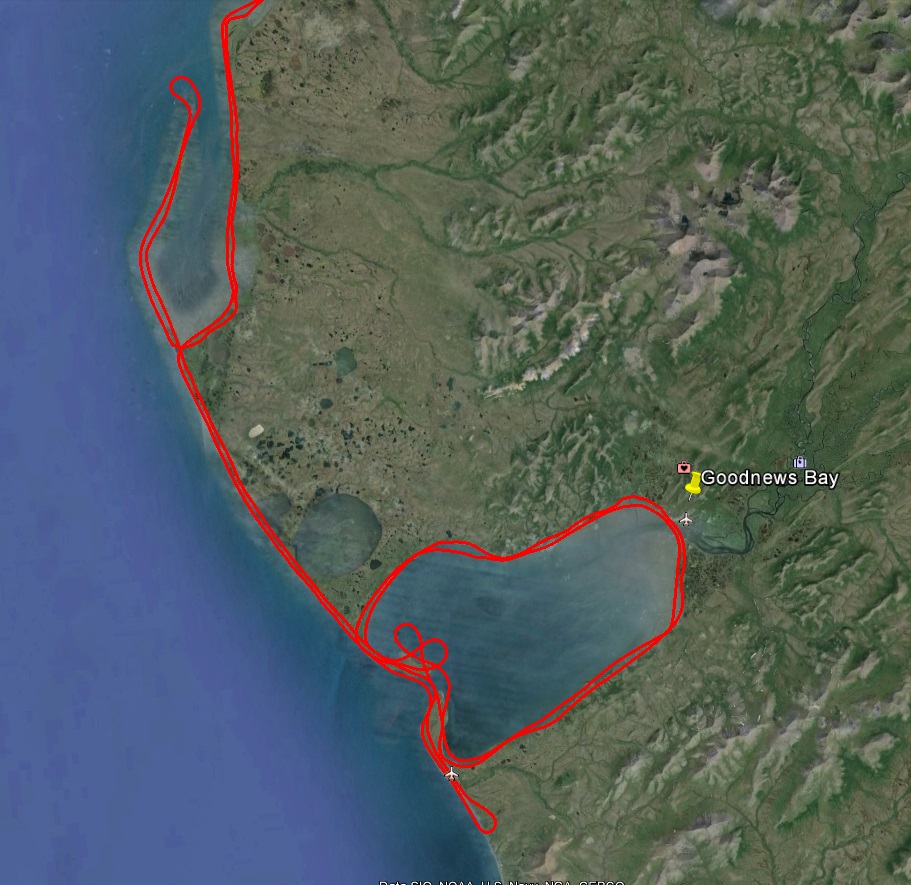 Platinum is near the little airplane symbol at bottom.
The trip back to Quinhagak was more of the same, but about there the clouds parted and all was calm again.  It's remarkable the difference the weather can make.  Suddenly it was a pleasure again to fly the line, no need to monkey with engine, time to look out the window, just smooth sailing.  Until I got within sight of Bethel and once again was dodging thunderstorms and dealing with squirrely crosswinds.  In any case,  I didnt get as much done as I had hoped, but seem to have completed the coast and returned with no damage.  I'd post some photos, but apparently I cant right now, so that, like the rest of Goodnews Bay, will have to wait for another day.  [UPDATE: That day turned out to be the next day for both…]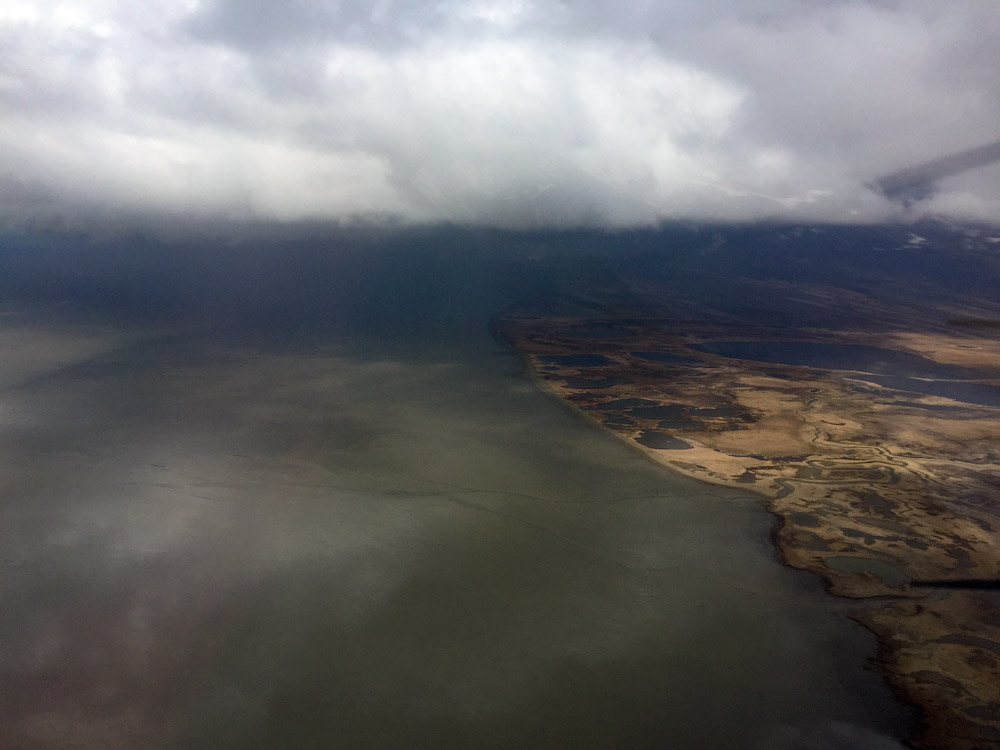 Jacksmith Bay on the way home.  It's not dangerous, its just a pain.  I probably should have slept in today…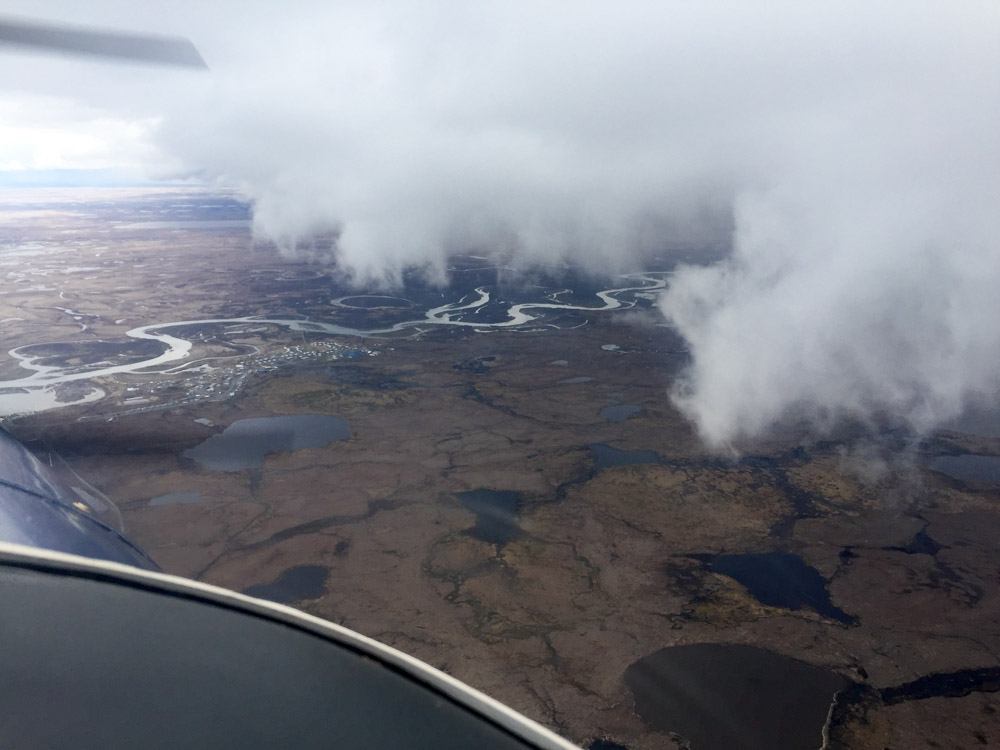 Quinhagak just didnt feel like being mapped today.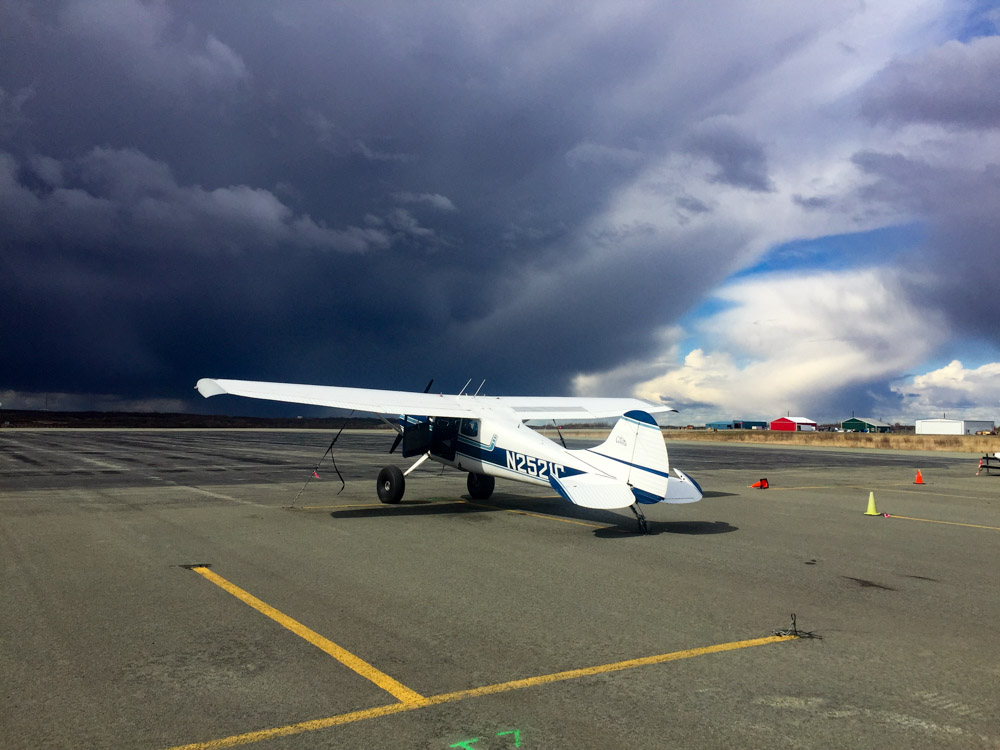 Had to fly under that to land.  Definitely should have slept in…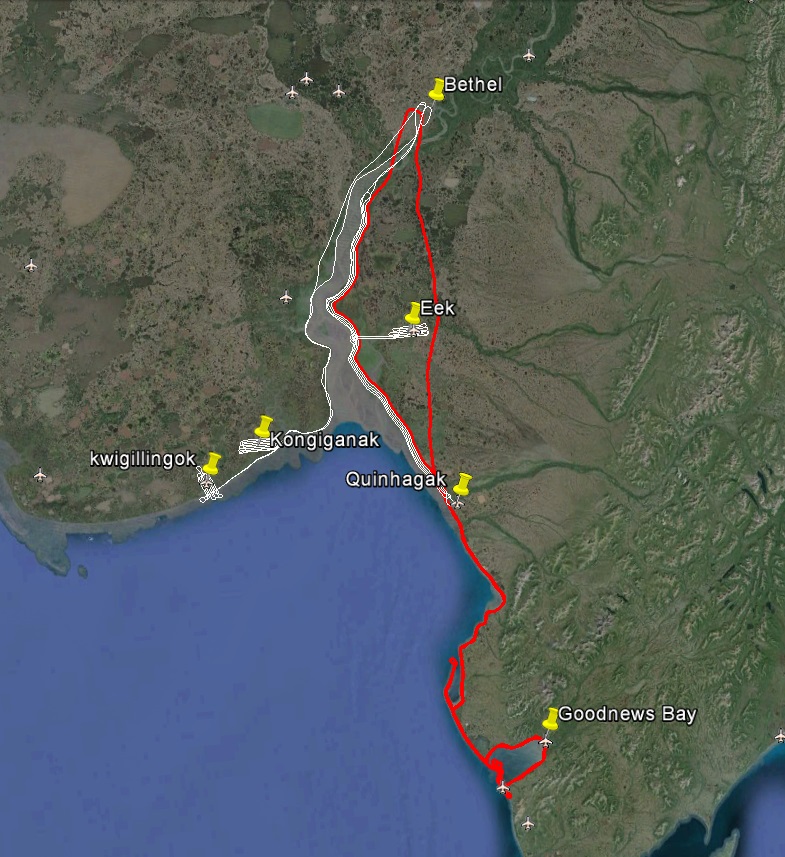 A productive day, but hard won.  The red line is today, the white lines from three days ago.
Some random photos from the day.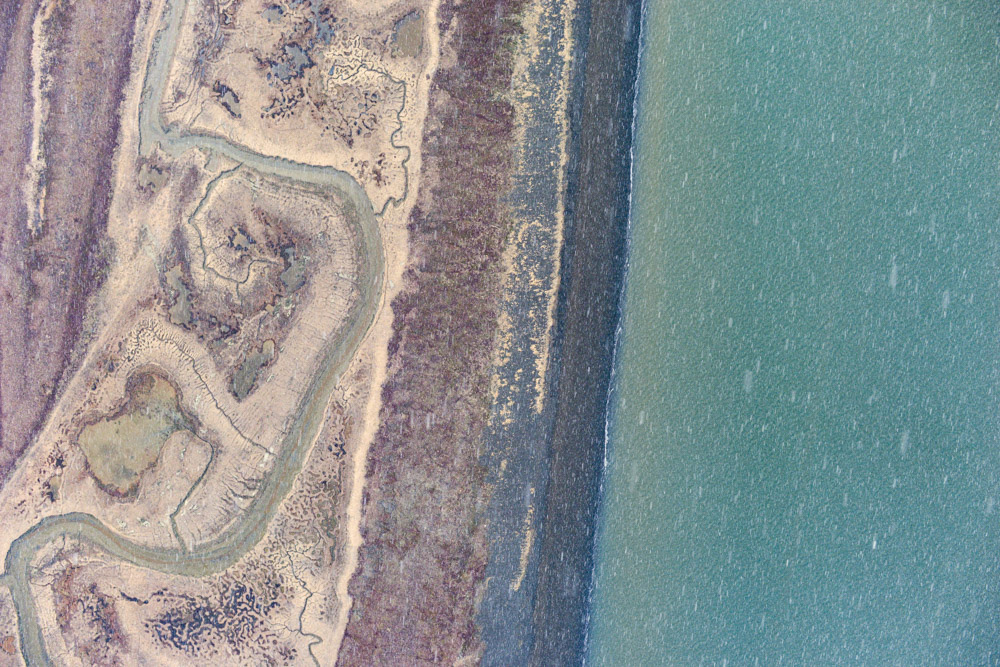 Even through a snow squall, image quality for mapping purposes is great.  Because the snow is random relative to the picture, it doesnt create coherent noise and is largely ignored.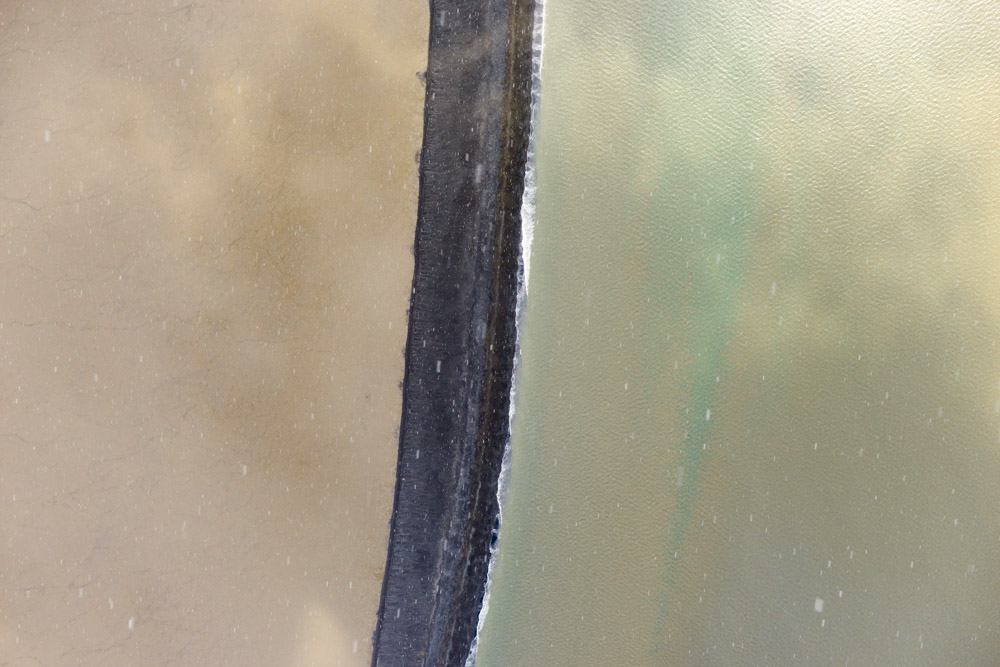 Considering it was nearly pitch black beneath the cloud making this snow squall, there is still incredible detail in this black-sand spit.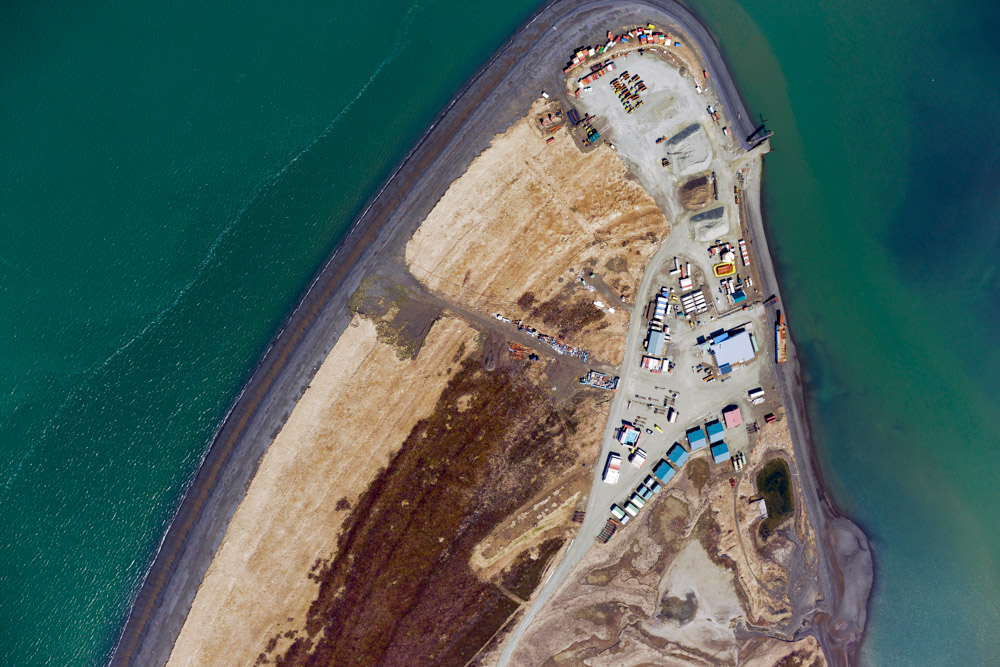 Platinum.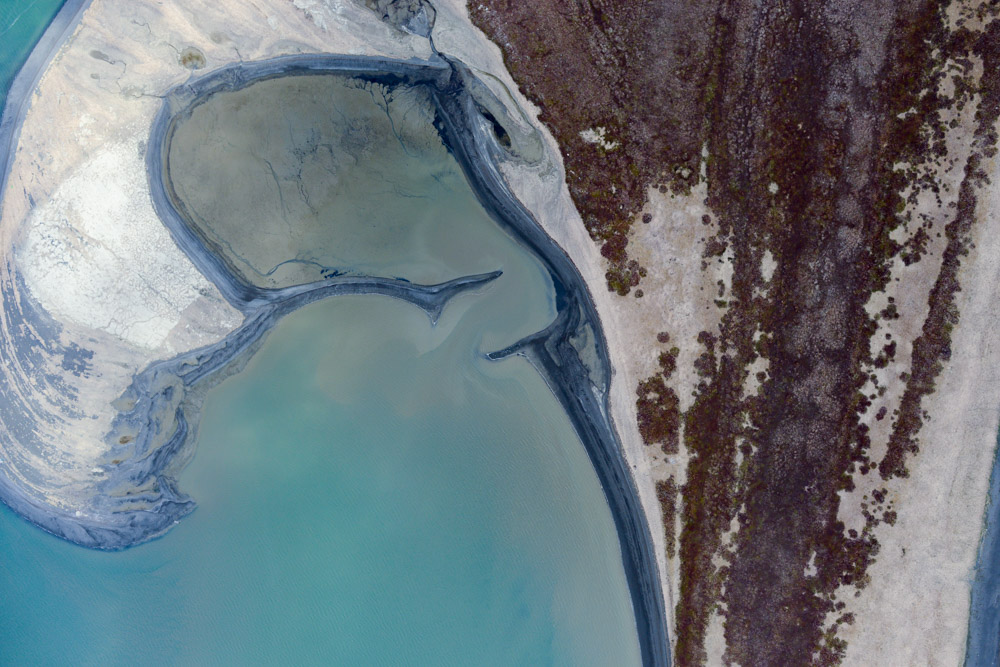 A spit that's growing.  Probably meaning that somewhere else is shrinking.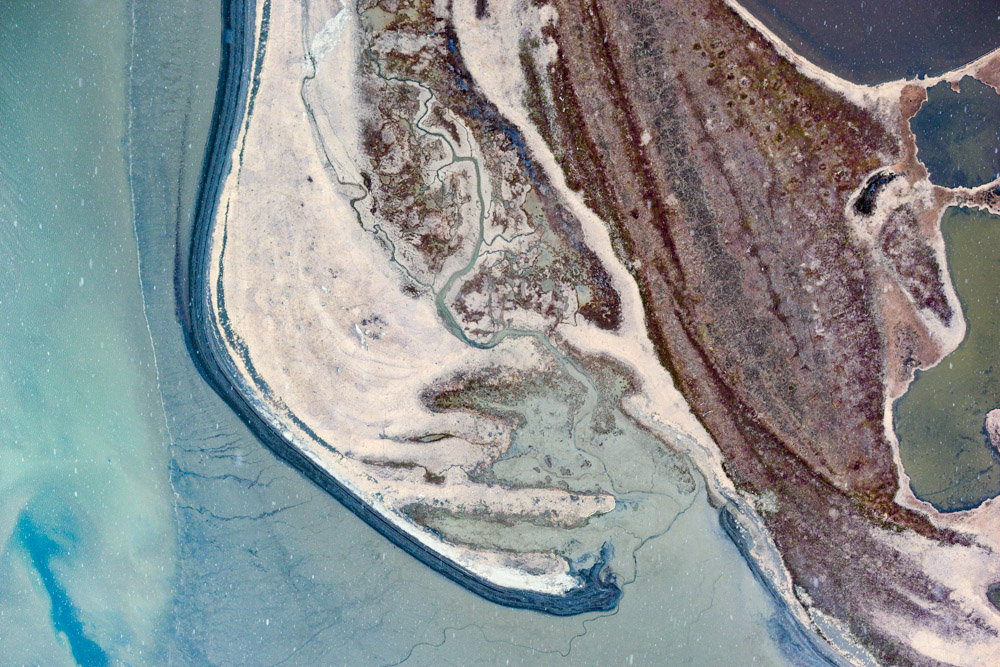 And another.