Coast of eastern Norton Sound complete!
Another good day of weather led to 9 hours of flying and 8880 photos covering 860 miles of flight lines, including all of the coast from Golovin Bay to Stebbins.
The early morning showed fog over nearly the entire coast, but the forecast was for clear skies all day.  In the early morning, the temperature and dew point are nearly the same causing fog and dew, but once the sun has a chance to break through and heat the ground, that fog begins to lift and dissipate.  Sometimes it just lifts a thousand feet, sometimes it disappears completely.  At least this is what I'm seeing so far in my few days here.
Given it seem down harder to the south, I decided to head north and finish up yesterday's lines.  There were still some clouds on the hills just north of town, but I took my time fueling up and soon enough they seemed to disappear.  I launched about 9:15 and headed up past Shaktoolik to finish the coastal lines, then mapped Shaktoolik itself.  By then there was not a cloud in the sky, and I could see nearly all the way to Nome.  It was tempting to fly there considering the southern part of the sound was still in the clouds, but I had hopes they would lift, and fortunately over the next few hours they did.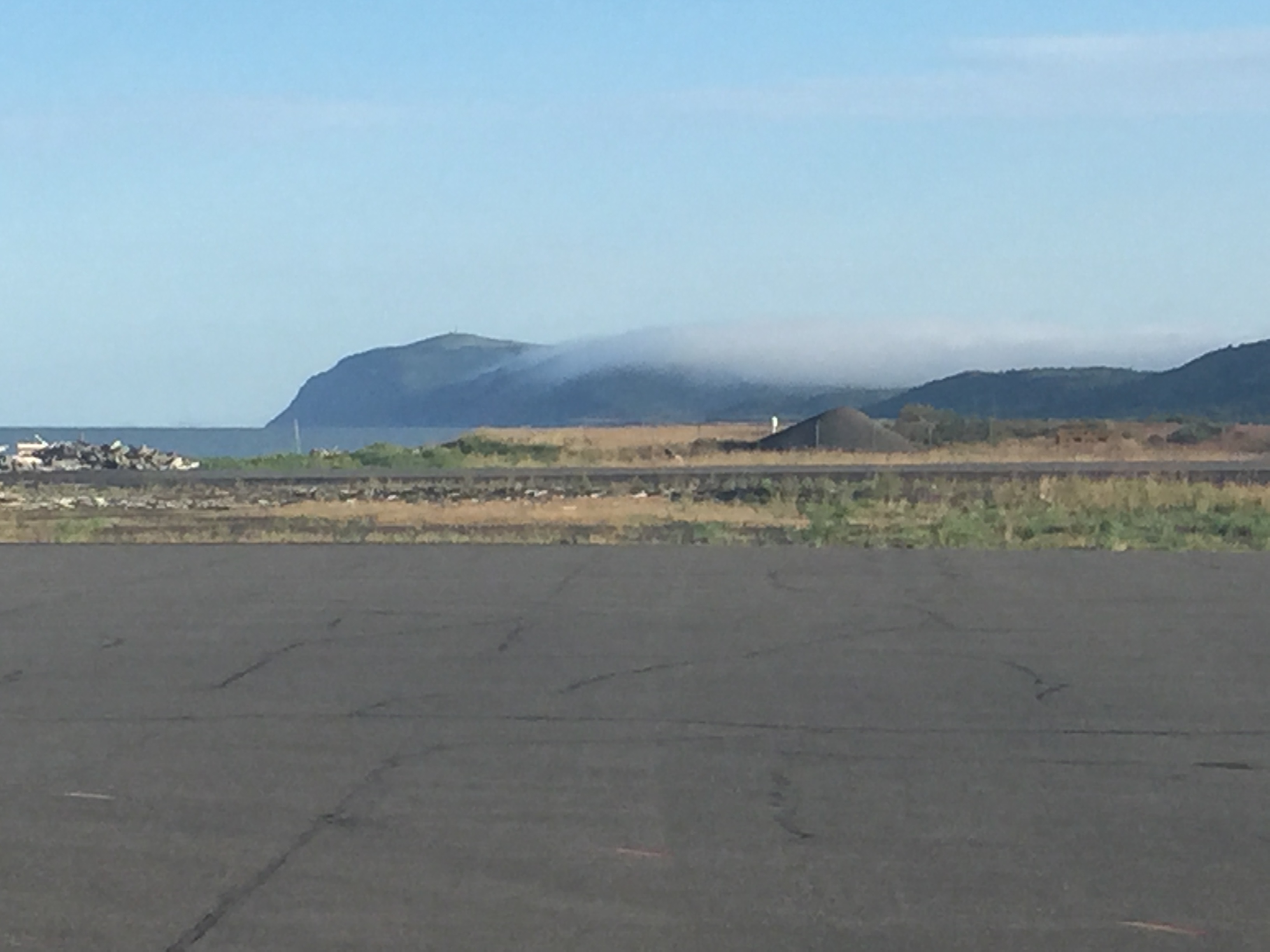 I waited until it was a little better than this before leaving north towards Shaktoolik.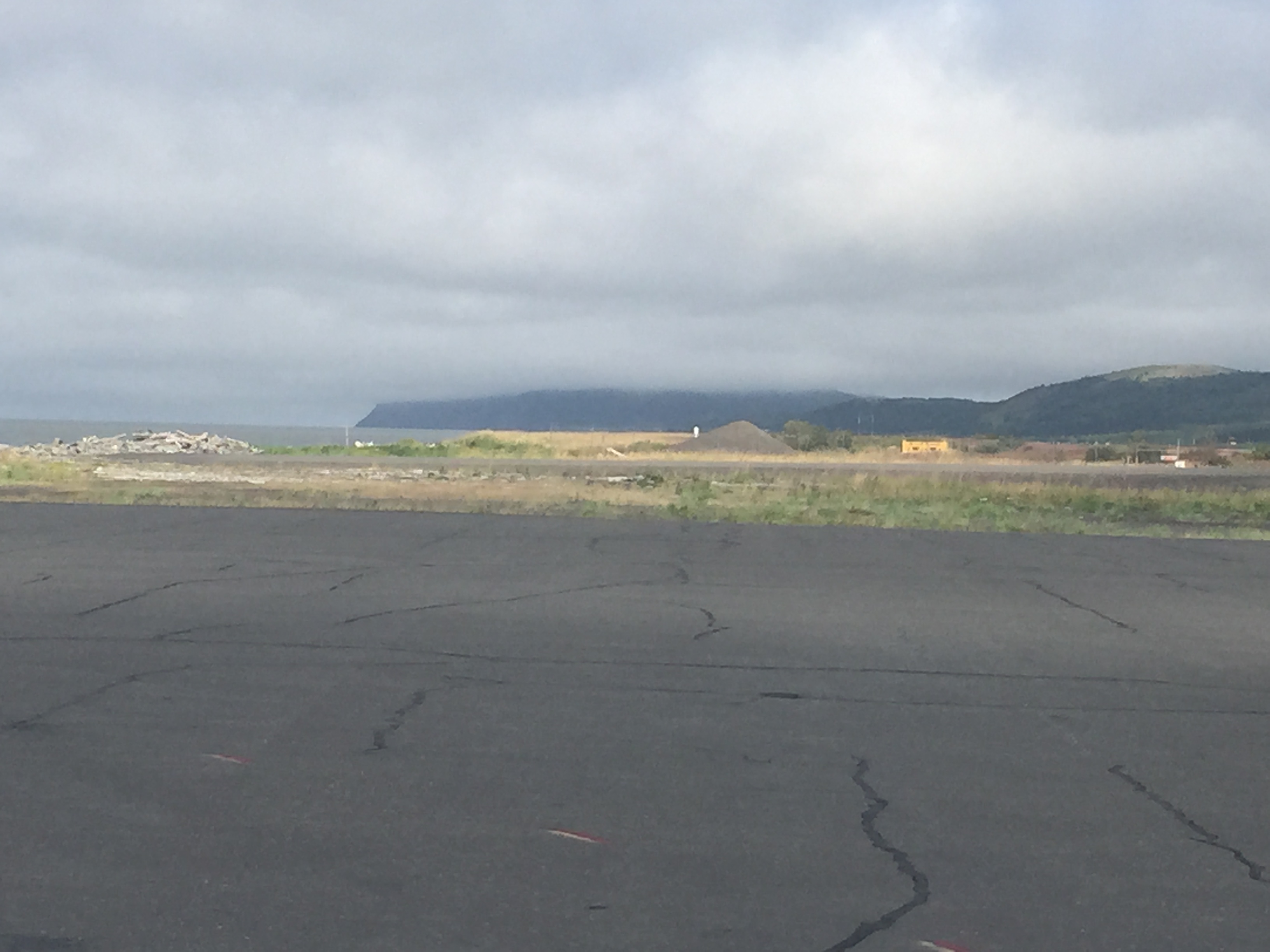 By the time I finished up north it clouded over again.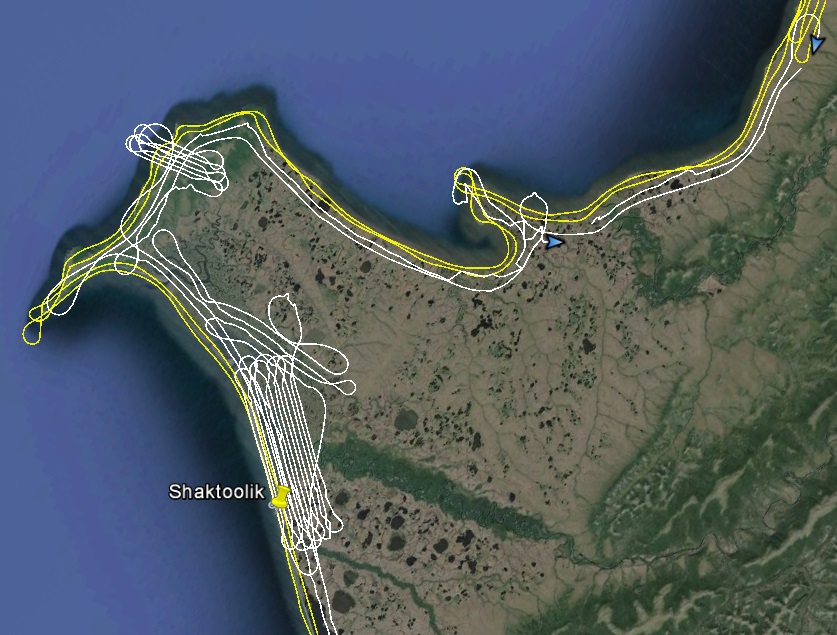 Shaktoolik area flight lines, today in white, yesterday in yellow.
I refueled in Unalakleet and headed south towards St Michael and Stebbins about 2PM.  There were still a few clouds lingering en route, but I flew under them over the coast, doubling my resolution of the coast line.  When I arrived at St Michaels it was crystal clear, but Stebbins, only a few miles away, was under a low overcast which continued all the way to the Yukon River delta.   My flight lines of the villages were planned such that I would extend the same lines to cover both, but since half of them were under cloud, I cut them short.  As fate would have it, in the hour it took to map St Michaels, the clouds disappeared completely I could see for a hundred miles south.  Since I had the fuel and the time, I decided to map Stebbins rather than continue down the coast, hoping that this was not my last opportunity for either.  Starting up those lines again effectively doubled the time it took to map both villages, as it doubled the number of turns I had to make, and it is the turns that eat up the time as I cant bank too hard else I lose GPS satellites.  But it was a beautiful day and the scenery was fantastic.  It would seem this peninsula has some volcanic origins as there were small cinder cones and calderas everywhere.  If this location were in Hawaii, I suspect there were be an unending stream of helicopter tours getting in my way here.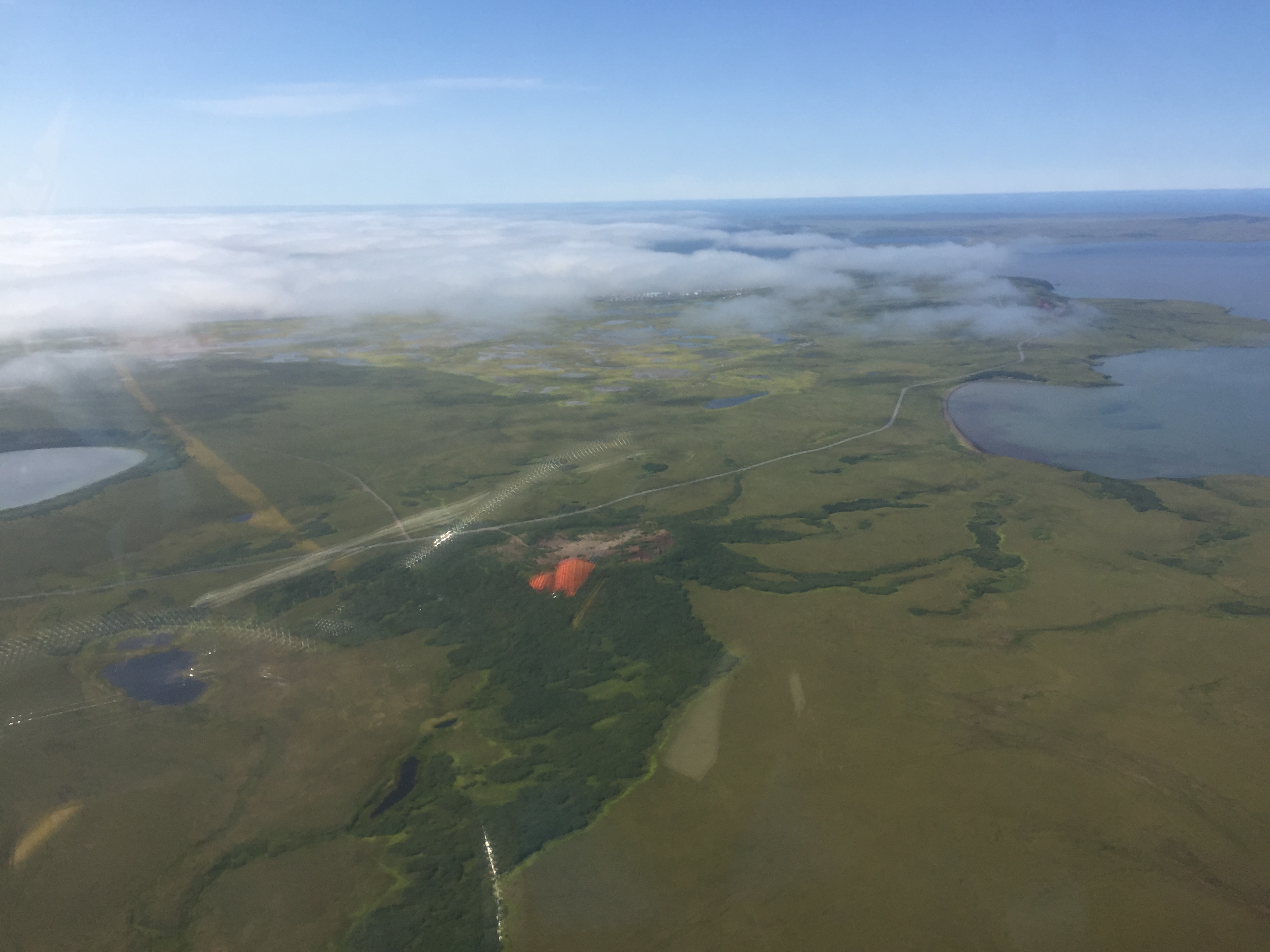 Stebbins was under the clouds when arrived.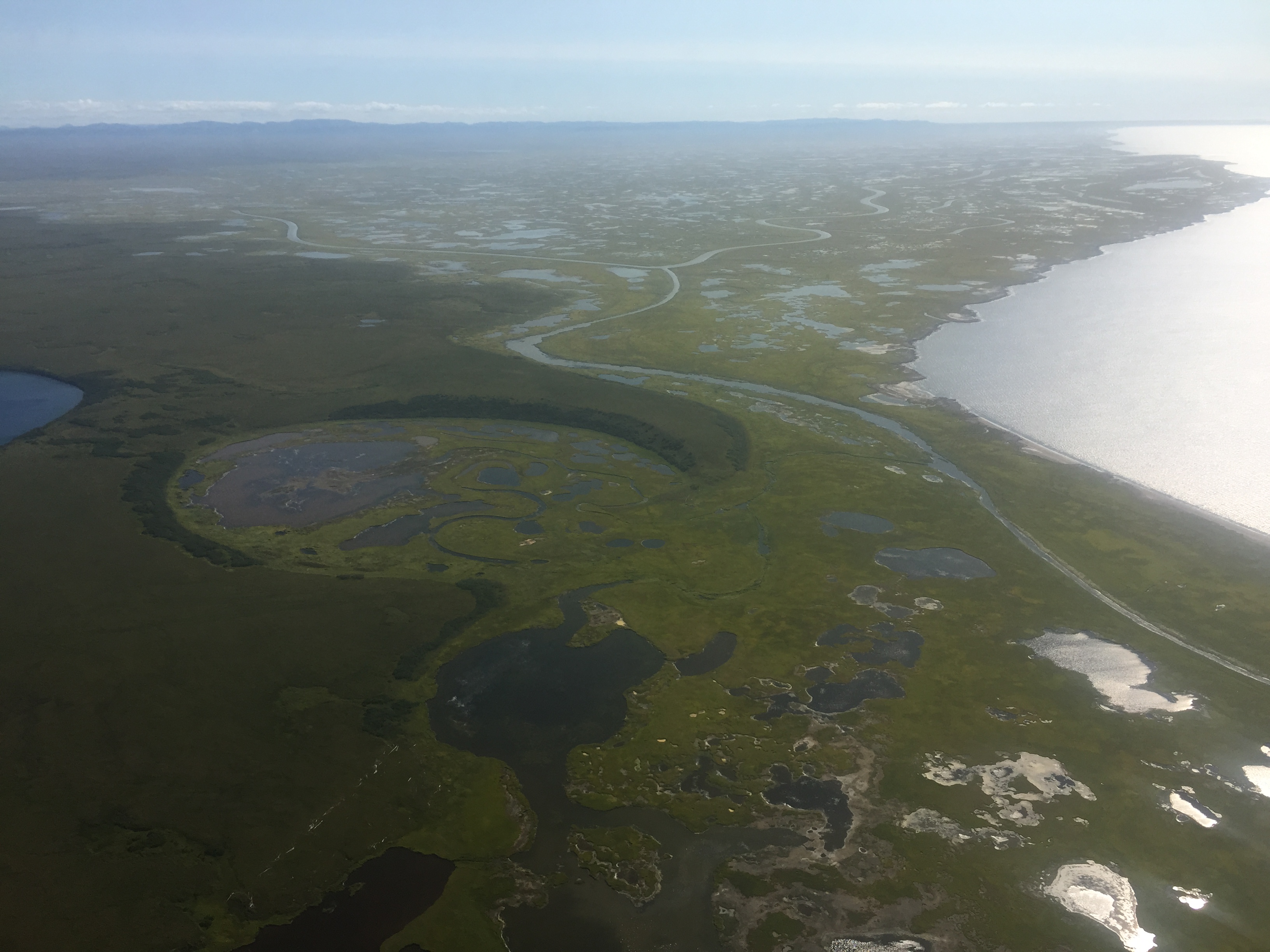 But by the time I was finished it had cleared up all the way to the Yukon River delta, exposing more of those craters that pockmark the area.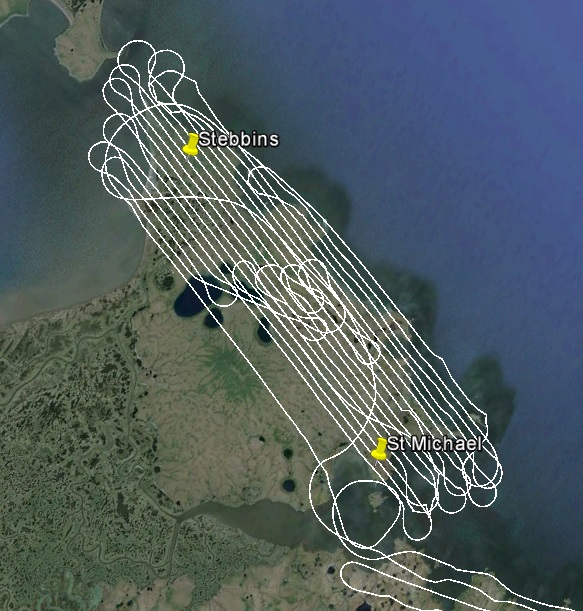 Practicing my sheepshank knots between Stebbins and St Michaels.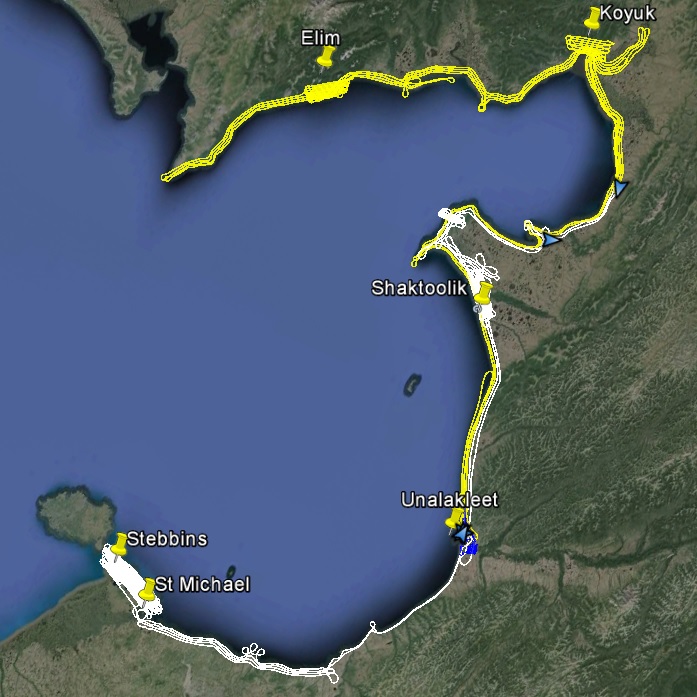 The eastern part of Norton Sound completed, at low tide.  Two weeks of weather like this and I could finish this project.  Two weeks of weather like last week, and I will have read all the books in the library here…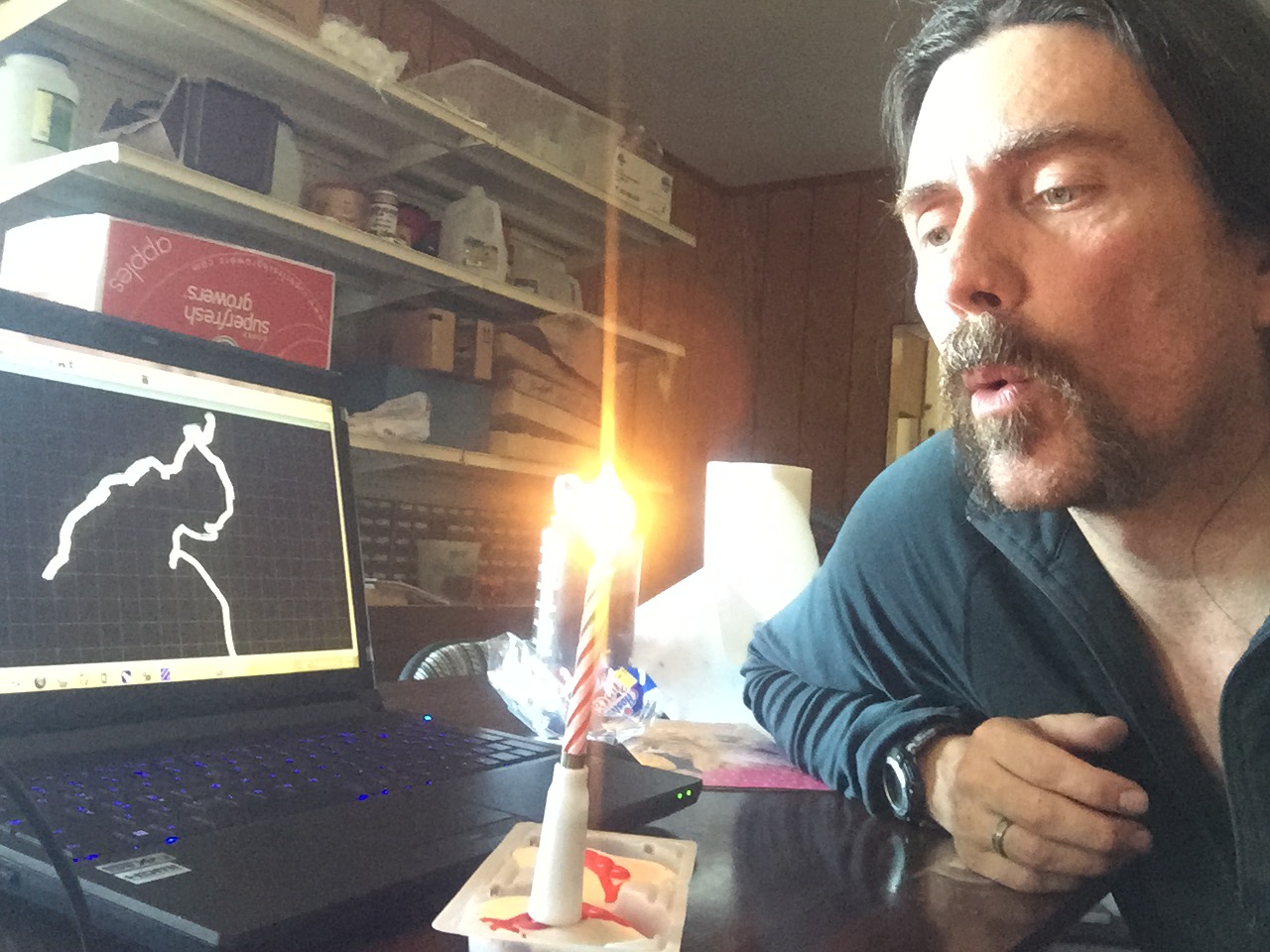 I got a care package today with a spare tailwheel, some engine oil, and Red Velvet Hostess Cupcakes with a candle to celebrate a belated birthday.  I have the whole hotel to myself so no one sang to me, but the candle plays music!