A bit better weather in Bethel
On Monday I relocated to Bethel and have been able to fly a bit each day, clawing my way under the clouds.
The forecast Monday was for the Yukon Delta to be open, so I headed there early in the morning from Unalakleet.  The weather enroute was fine, and the camera and weather station at St Michael was promising.  However, as it was last time I was there, the weather turned sour between St Michael and Stebbins, even though they are only a few miles apart.  I tried skirting inland, but the clouds were nearly to the ground everywhere, and were dark and angry looking with rain.  So I headed back did some cleanup work of the past few days where clouds had been in the way, and landed back in Unalakleet to regroup.

There always seems to be a dark cloud over Stebbins…
The forecast suggested that the weather was going to be better in the Bethel area the next few days, so I decided to head there.  After having the hotel to myself the past week, the next two nights it was fully booked, including my room.  Maggie offered to let me stay in her guest bedroom next door as a backup, but I was feeling done with Unalakleet for while and looking forward to trying something new.  Unalakleet is kind of a weather trap, where winds from the west seem to funnel in moisture and pack it into the surroundings.  Nome wasnt looking much better, so south it was.
After picking my way through the hills to the east, the Yukon showed blue skies in wide patches.  The base of the clouds here seemed astronomical at 5000′ compared to what I was used to.  It was simply much warmer here, only 20 miles inland, and the temperature-dewpoint spread was bigger, and so were the bumps that were lifting the clouds.  So I climbed up above them, probably the only plane over the yukon at 8500′.  The flight to Bethel was uneventful, and the controller instantly realized that I had never been here before and helped me find the right runway.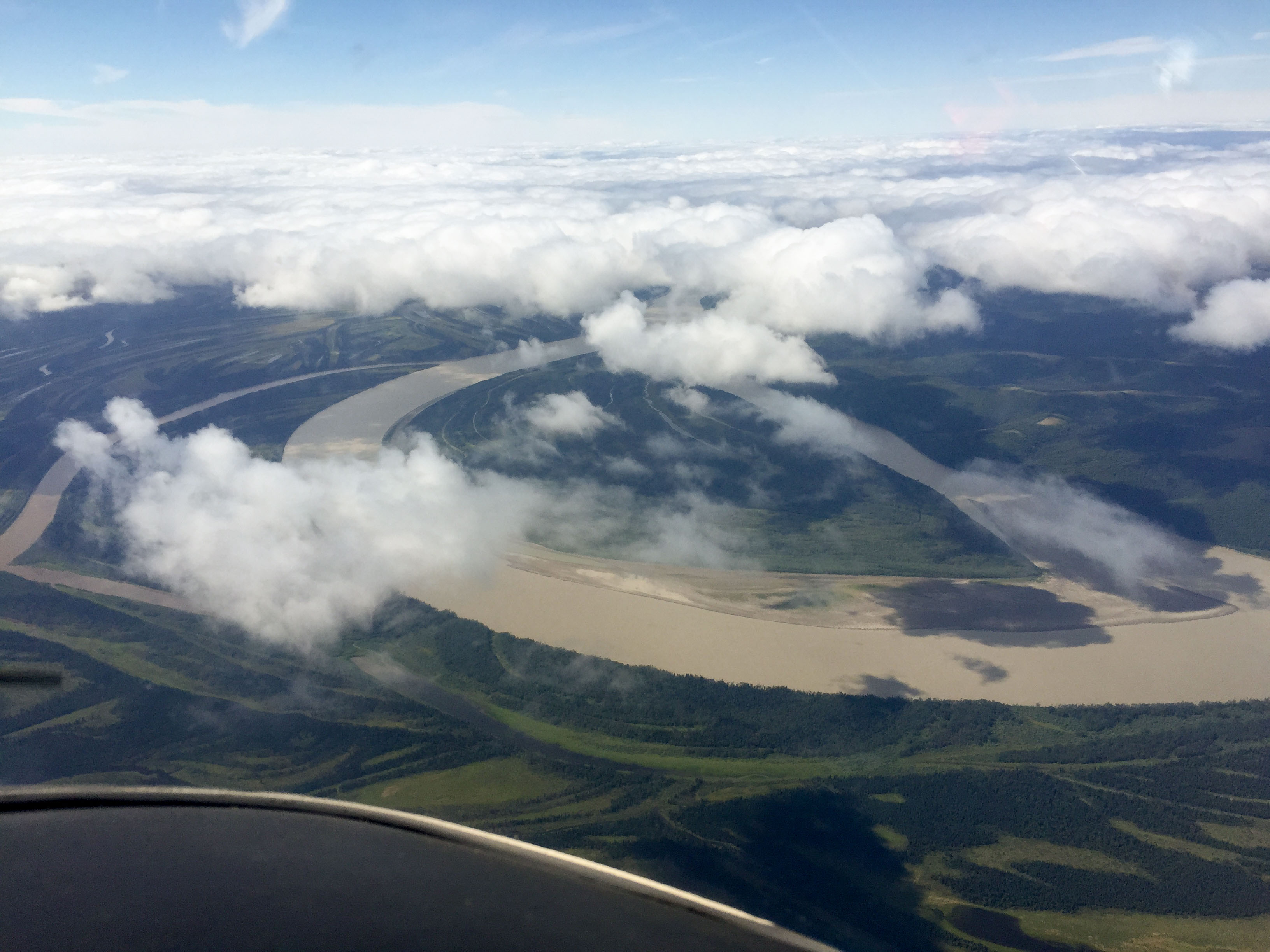 The clouds were much higher over the Yukon, but the air was also much bumpier down there because of it.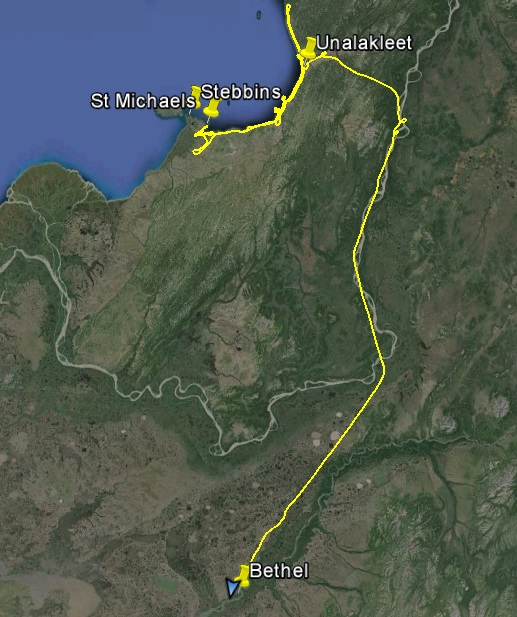 I'm a pussy when I fly — even at 8500' I follow the rivers and airports.
Once on the ground I met Darrell, who was checking on his plane.  We chatted about flying and though we had never met he drove me into town to find a place to stay.  The first few places were full, but eventually we found one that had rooms and we exchanged numbers to get together on the next foggy day.  So far Bethel seemed like a friendly place.
Next morning conditions werent as outstanding as the forecast suggested it might be, but it wasnt horrible so I decided to go up and have a look.  After getting lost on the taxiways I eventually took off and headed southwest.  Ceilings around Bethel were around 3000′, but not far out of town they began dropping.  My flightlines over the coast are planned at 2700′, so a ceiling of at least 3300′ is nice to have.  But soon I was flying at 1500′.  This is ok for the first line over the coast, since the next line also captures the coast, but if the next line is low too, now I'm capturing a narrower overall swath width, and at that altitude I'd have to fly twice as many lines to get the same inland extent.  I got as far as Kipnuk, but it was clear that there was worse weather coming in from the west, so I turned around and headed back.  Ceilings continued to drop until I was flying at about 600′-700′.  I called back to Bethel to make sure the airport was still open to guys like me that need to see where they are going, and fortunately it was.  There's nothing wrong with flying so low and I have no problem with that part of it, the main issue  is that when the clouds are that close to the ground there's a chance they may decide to land on it, which does becomes problematic for me.  In any case, it worked out fine and it was good to see what the weather was like around here.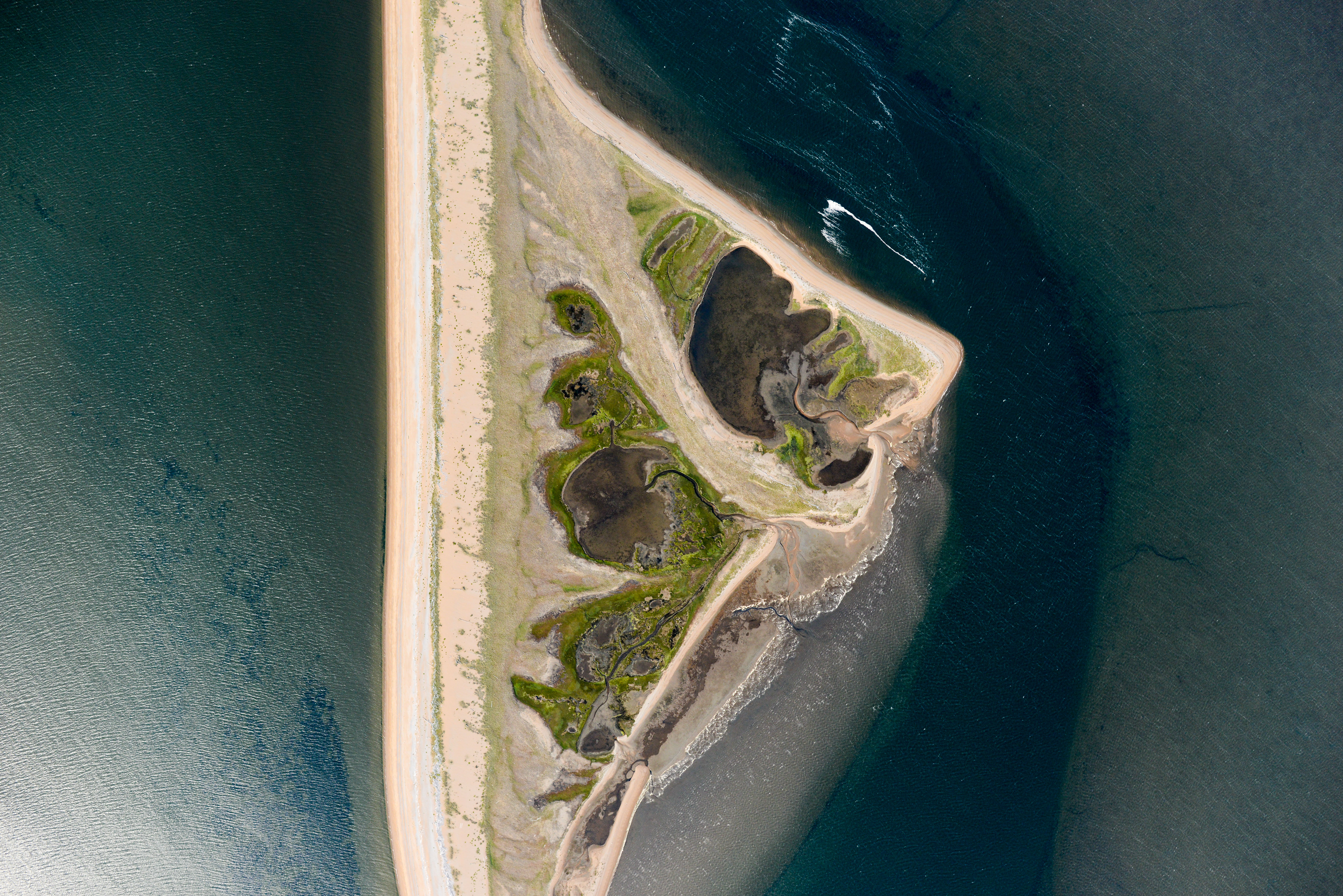 I just like the look of this one, kind of like a cross section of bone. You should be able to right click on any of these images to download them in full resolution.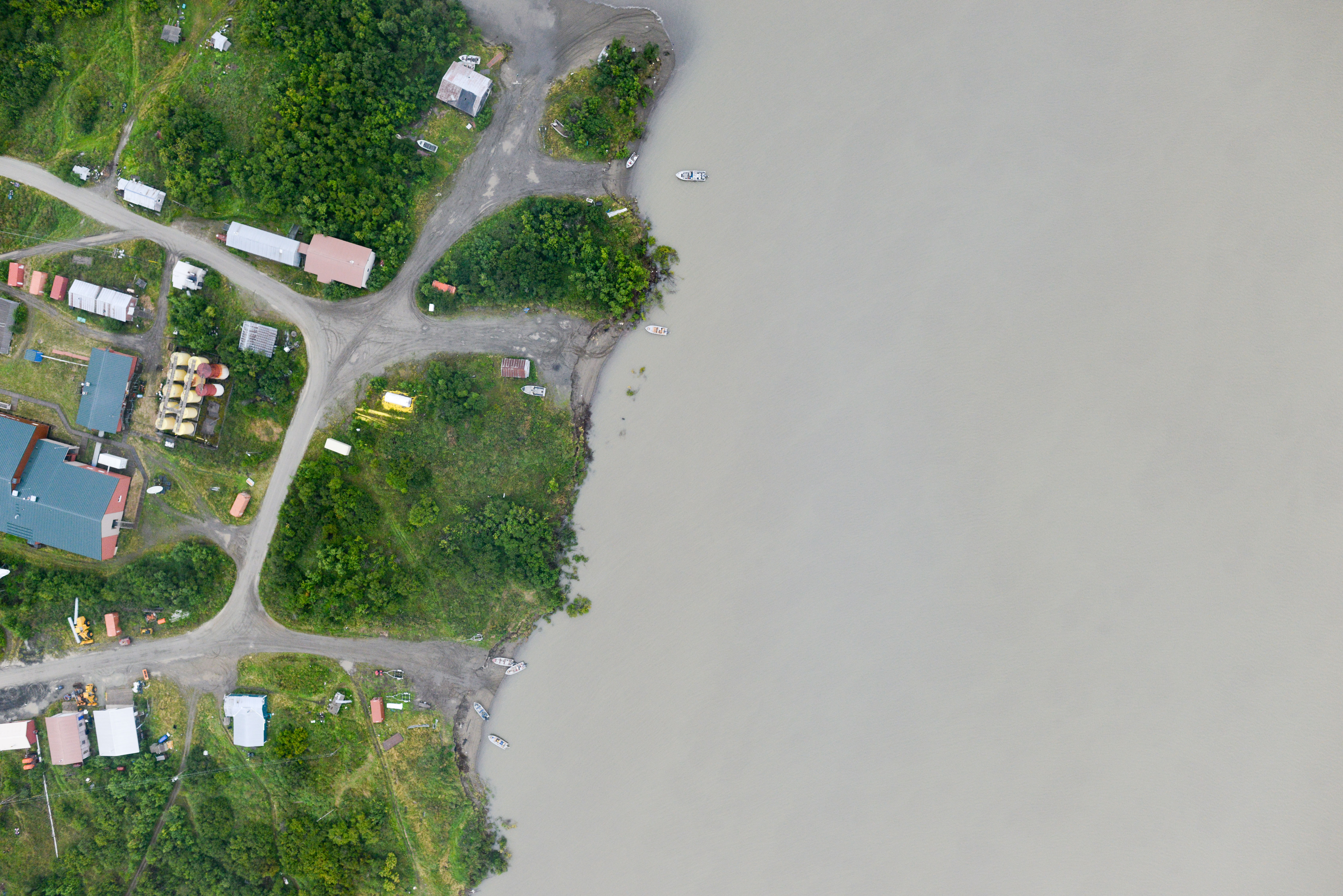 The edge of Napiak. This village is going to be tricky to get because it right in the flight path for Bethel and only a few miles away.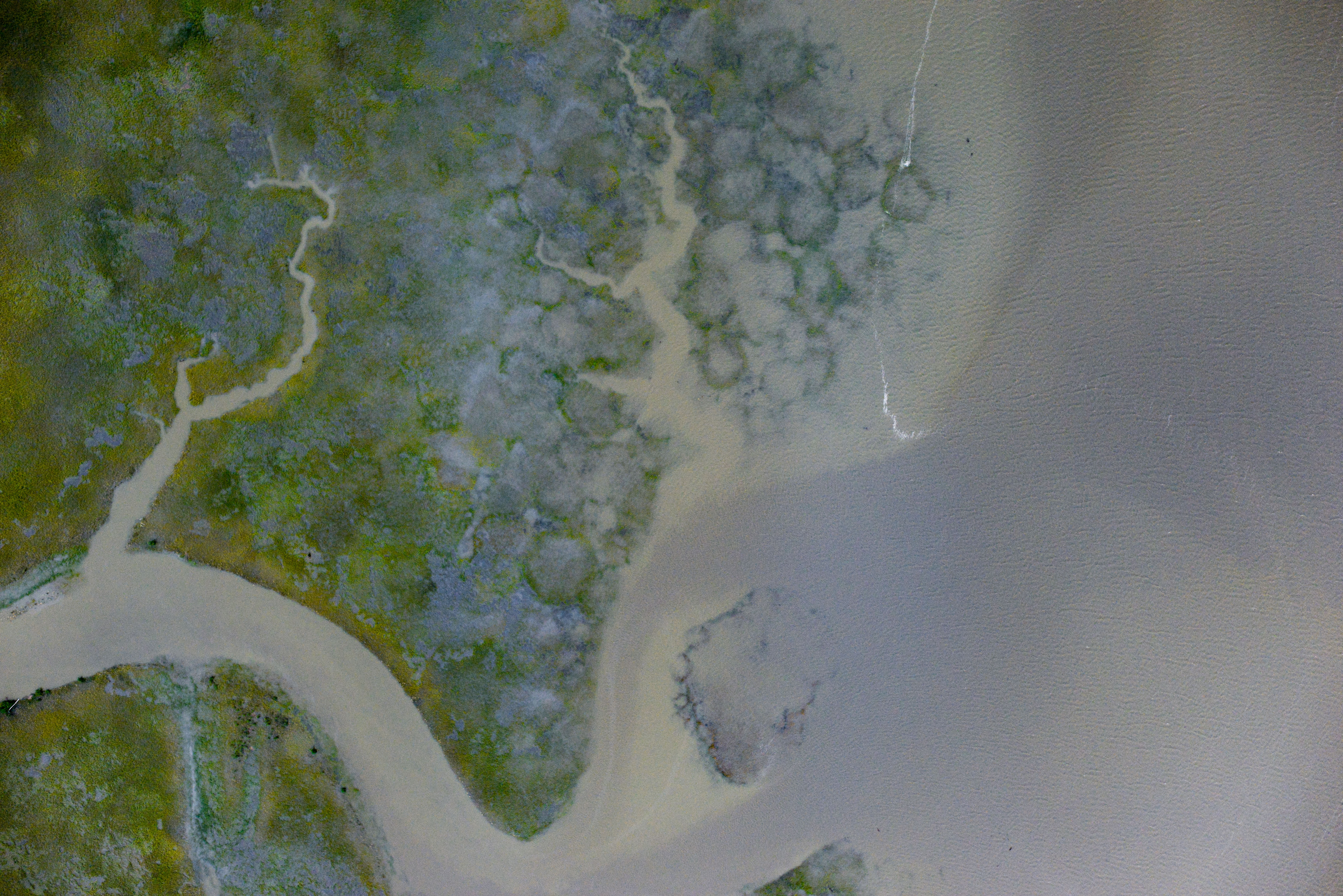 It was low tide, but not as low as the next day. All kinds of wierd coastal features here. I was pleasantly surprised by the quality of this photo and the next two, as they were taken under a thick, low overcast in the rain. I cranked the ISO as far as I dared then stretched the contrast afterwards. A little noisy, but considering how dark it really was, its somewhat outstanding.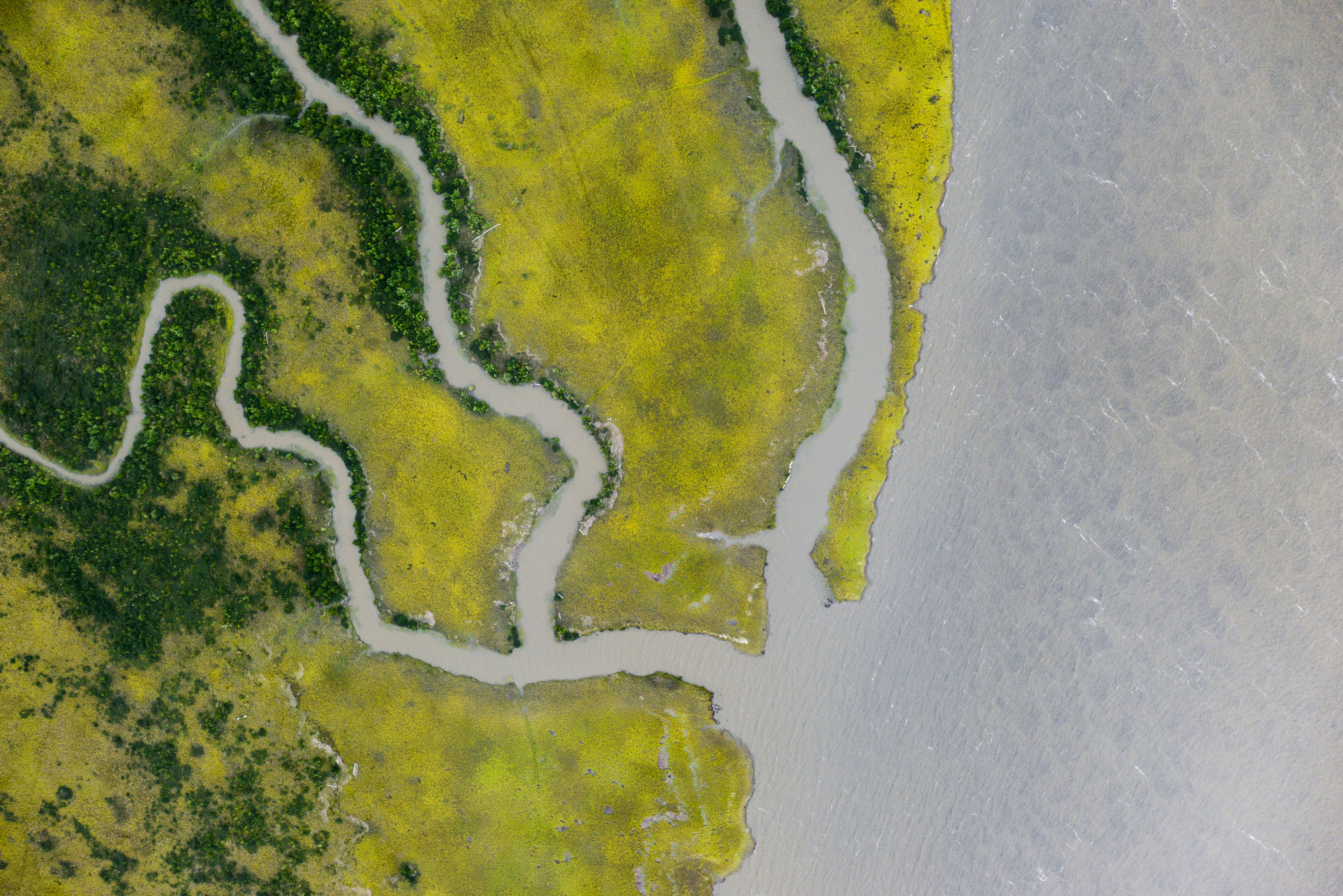 Pretty low lying ground around here. This tundra must be quite salt resistant.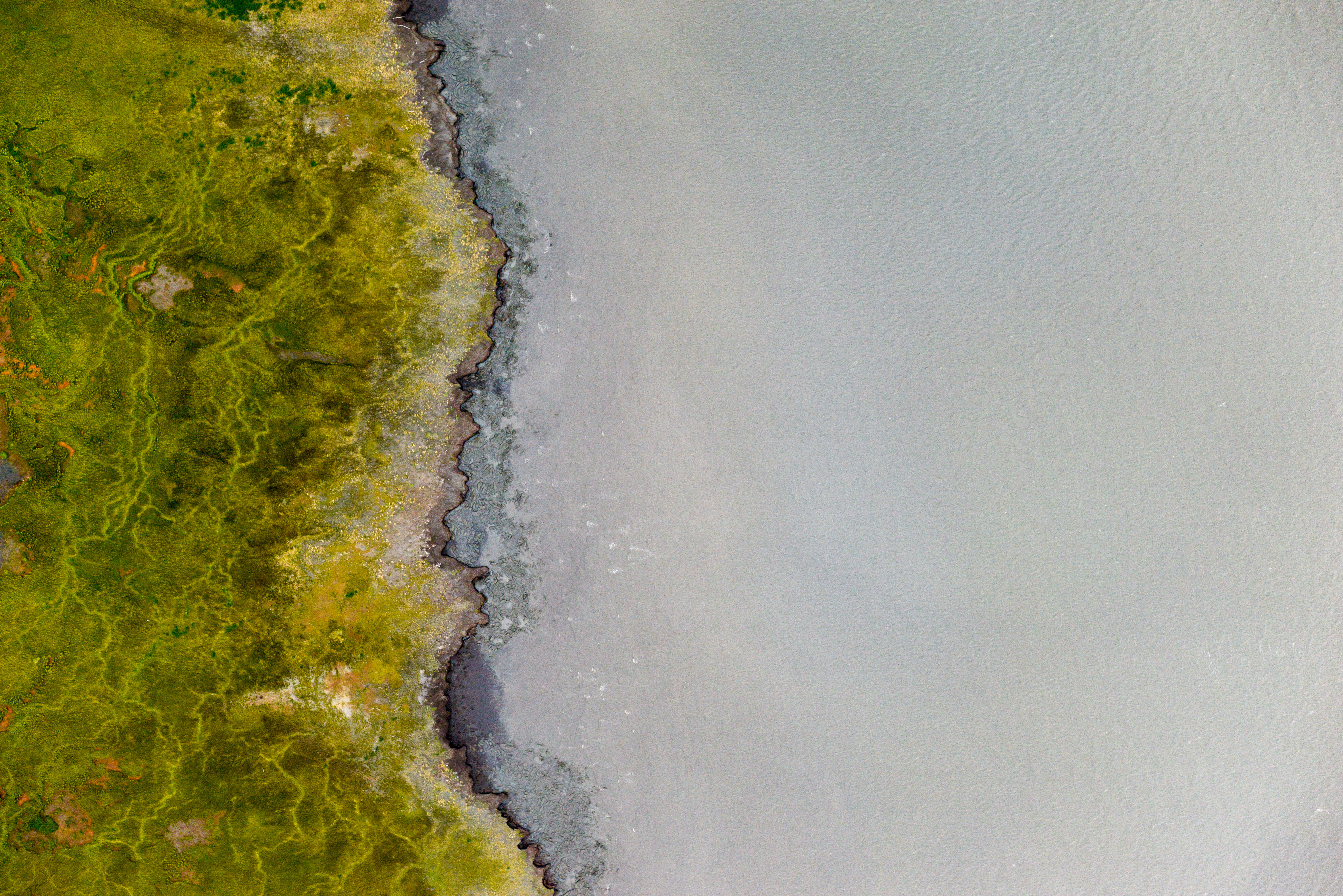 This tundra must be even more salt-resistant. I'm not sure what the linear features are, but they kind of look like scarps from the tides. Once processed into a DEM, it might be more clear.
The weather continued to deteriorate throughout the day and this morning the clouds were down to the ground.  I took the opportunity to get a little cleaner and catch up on some paperwork, keeping an eye out the window.  By late afternoon, ceilings had come up, so I took the $7 cab ride to the airport and had a look.
By this time I was already considering reducing the height of my flightlines and so tested that out a bit.  Ceilings were only 2000′ and that seems like its going to be the norm, as confirmed by the local pilots.  My impression is that the temperature-dewpoint spread is never more than a few degrees here this time of year, as the late summer sun combined with the cool wet ocean air dont let it.  Walking outside had the feel of winter to it already.  The fireweed still has flowers, but they are at the top and it wont be long before they get fuzzy.  In any case, flying lower seems like it will work, but it definitely will have increased challenges.  Because the swath width is narrower, it means it will take more work to catch the crenulations in the beach.  It also means I'm taking at least twice as many photos, which will fill cards faster and quadruple processing time.  But the upside is I can still be productive out here.
I went as far as Kongiginak today, which all of the pilots refer to as Kong, and mapped it before turning around.  I hadnt realized until now that they have no roads in these villages, as they are built on mushy tundra.  Instead, everything is connected by boardwalks wide enough to drive four wheelers on.  The good news about these boardwalks is that they make nice targets for ground control for my maps.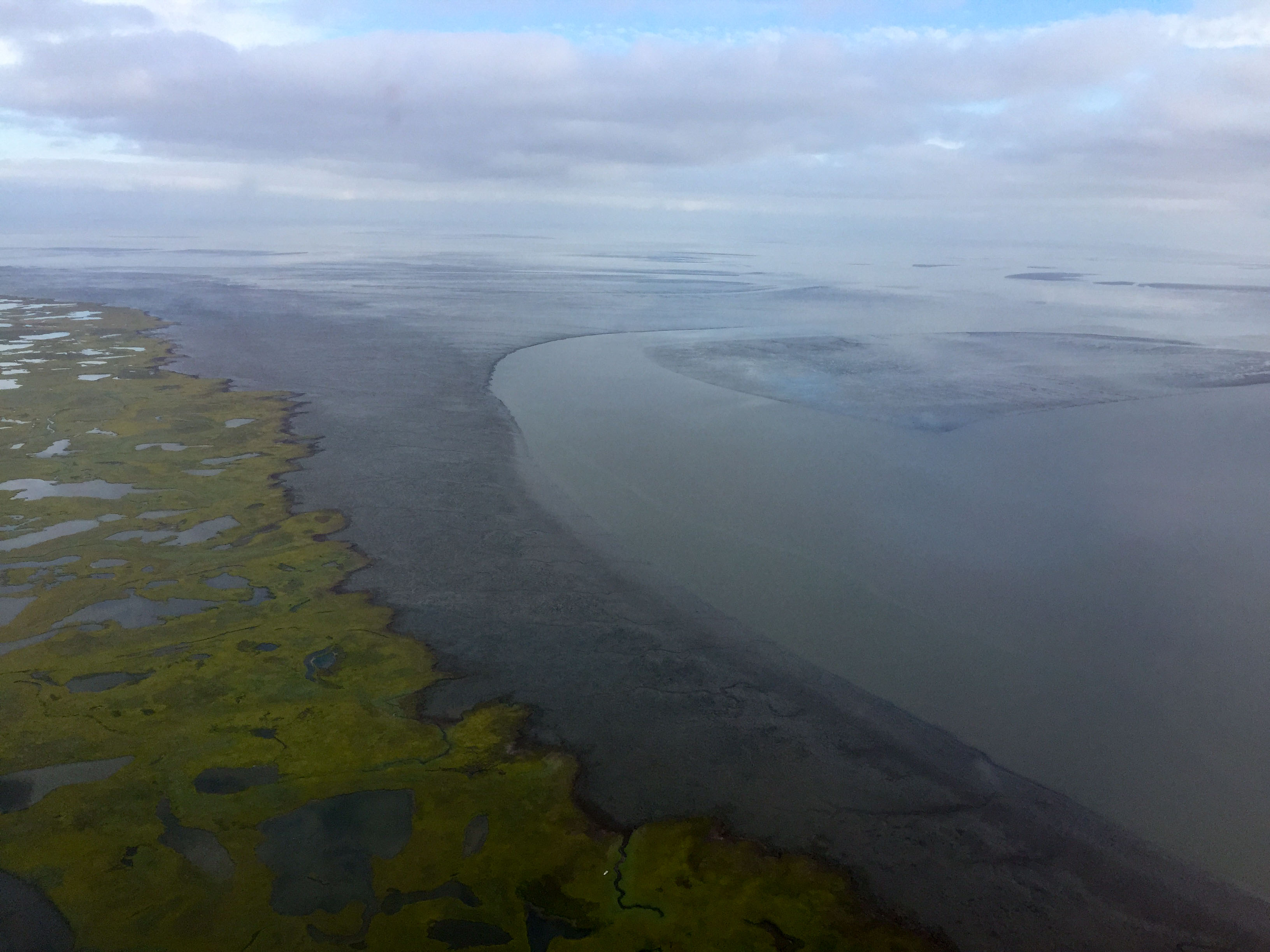 The tide was really low today, exposing mud flats that were in some places over a mile wide.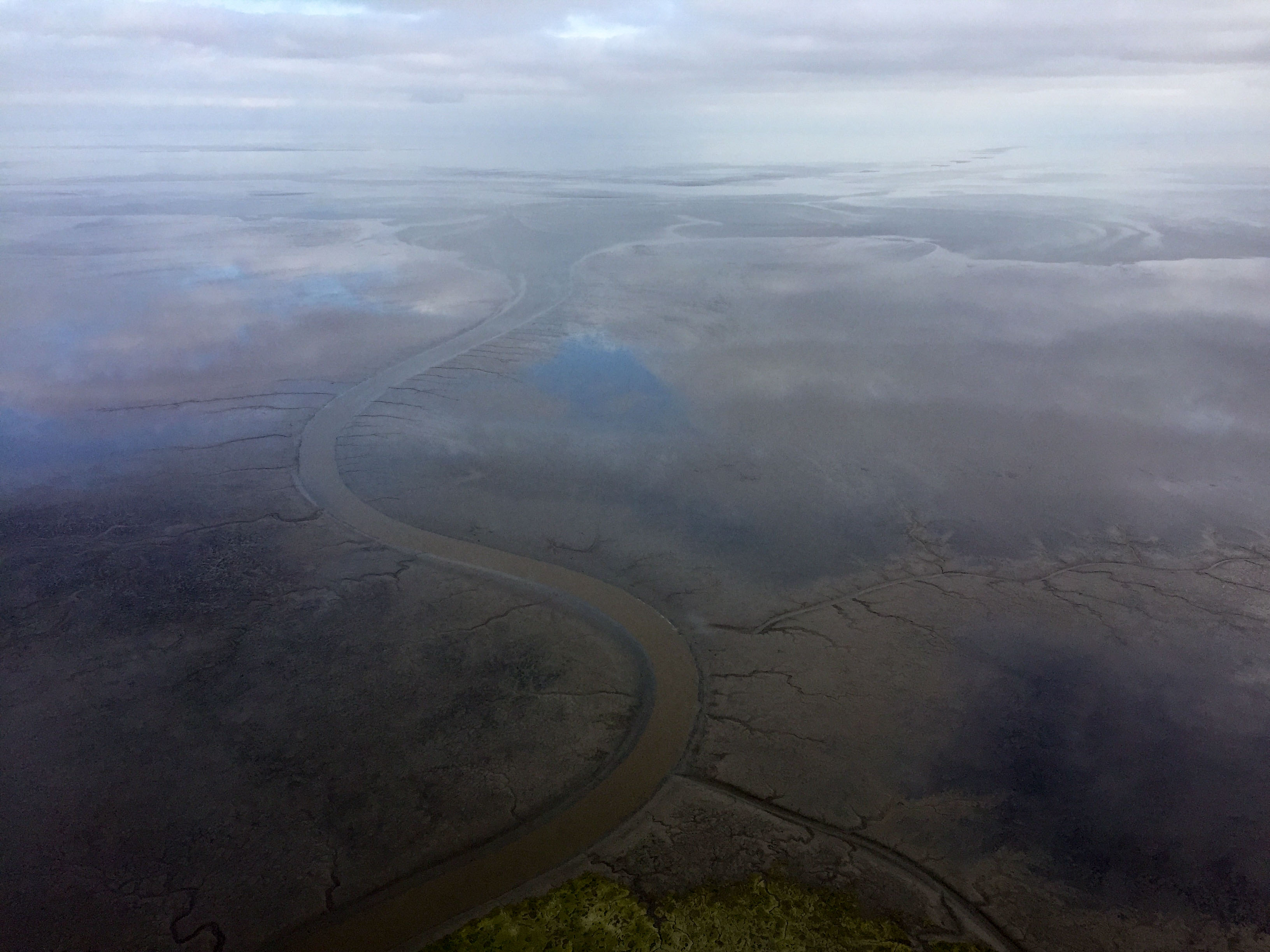 The flats had little rivers cut into them.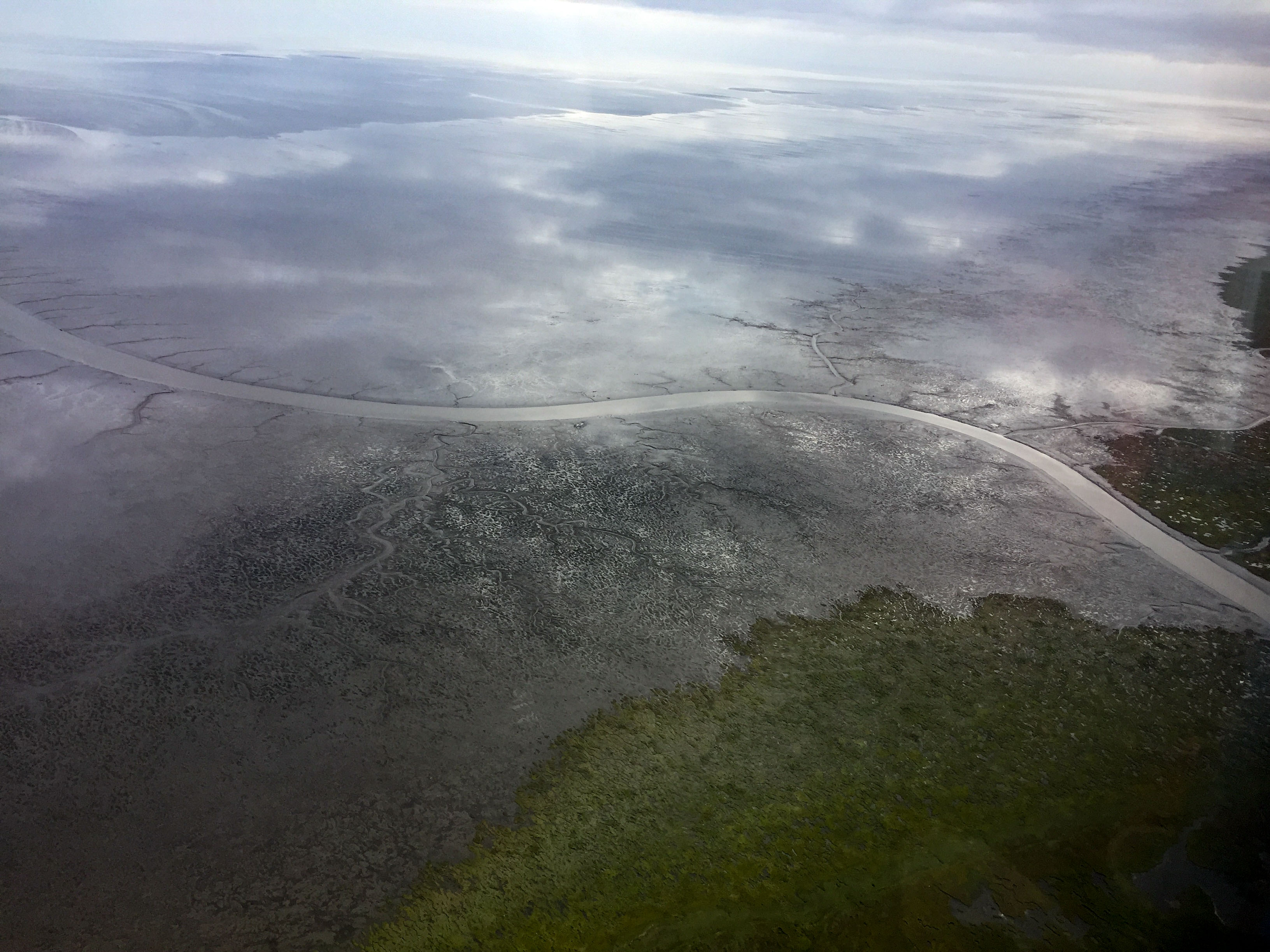 Sometimes big rivers.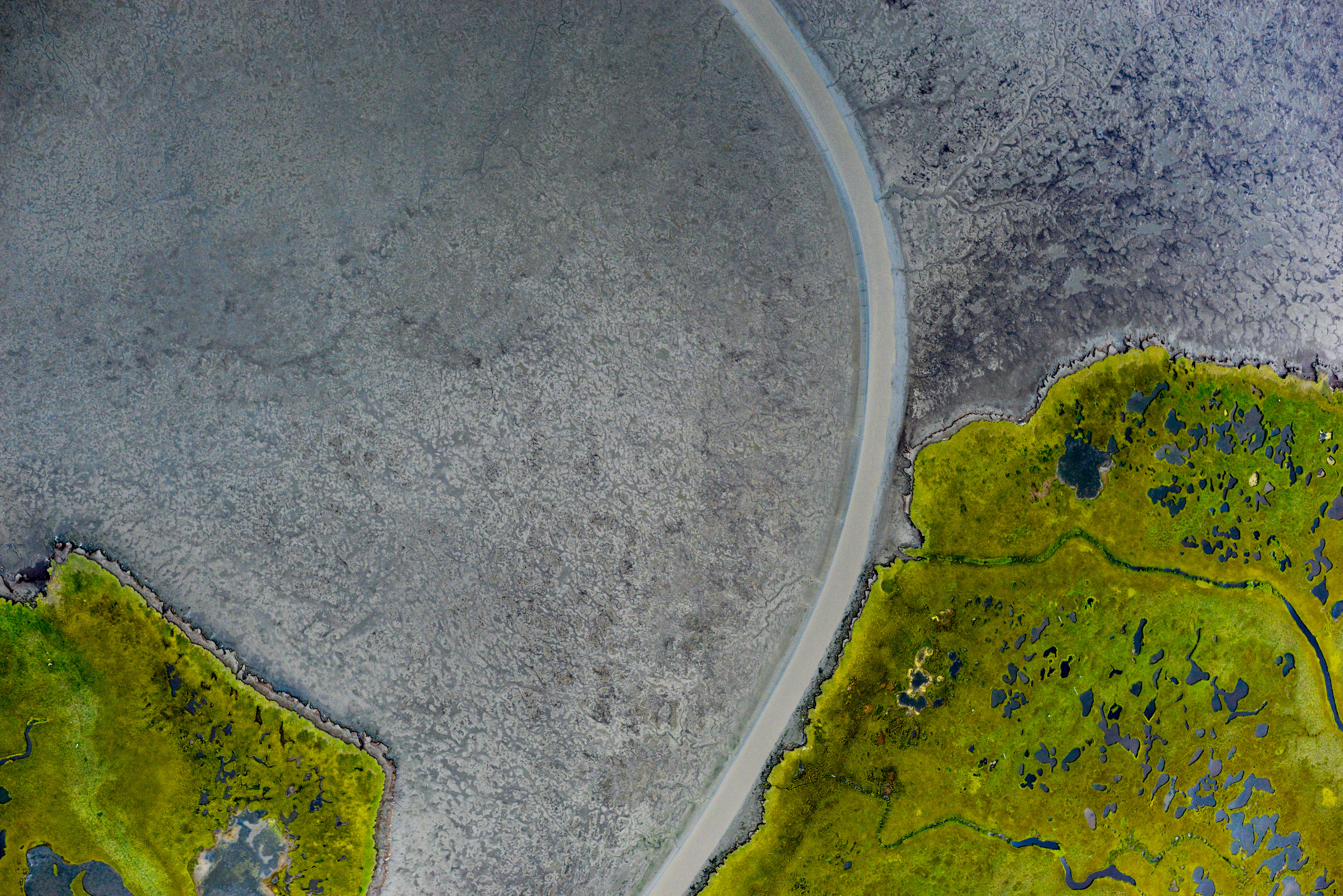 I couldnt resist mapping them, just to see how far below sea level they go.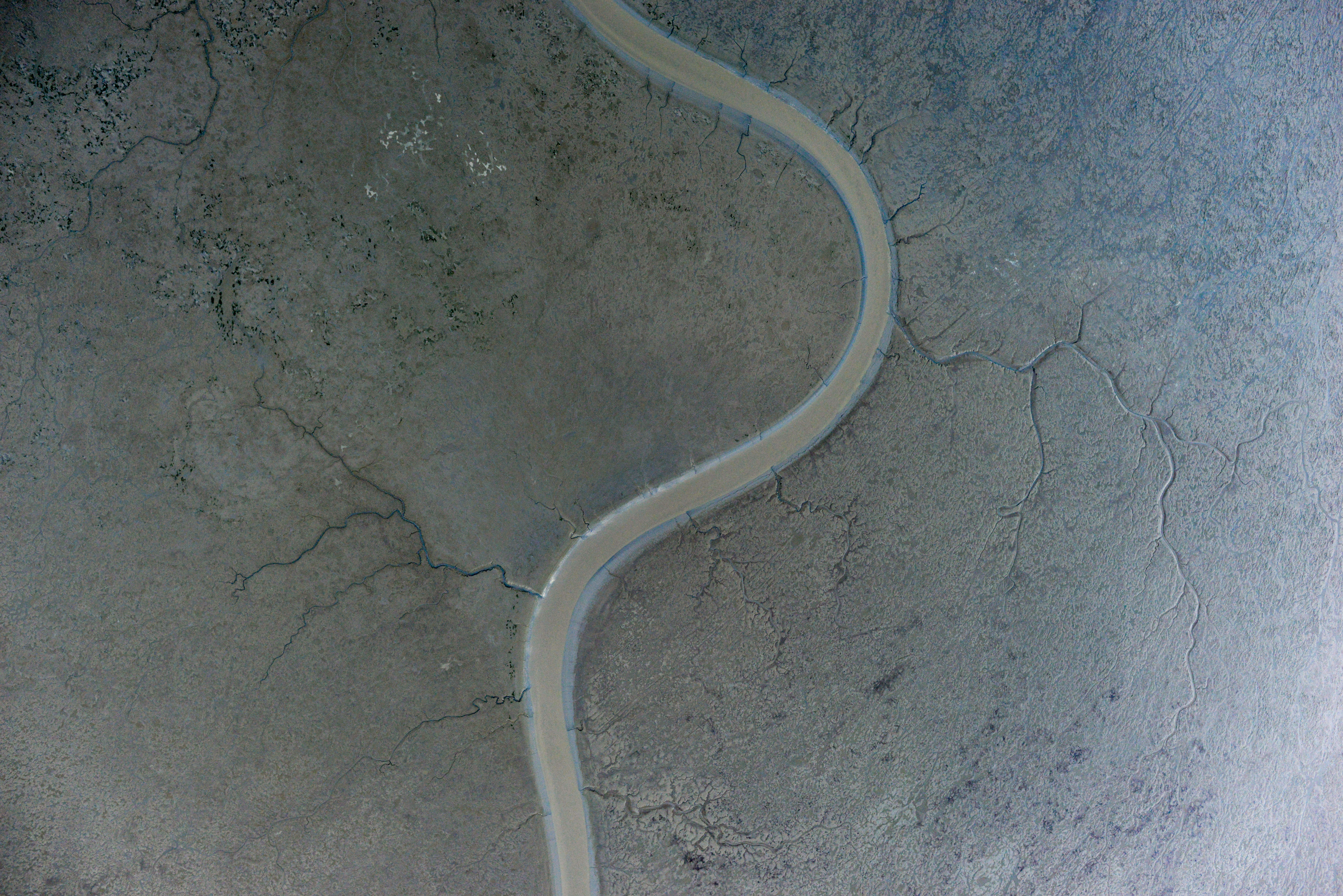 This is pretty far from shore.  The tidal range here is many meters.  It's so large I cut it off the bottom of the plots I brought with me.  But this should make a pretty cool DEM.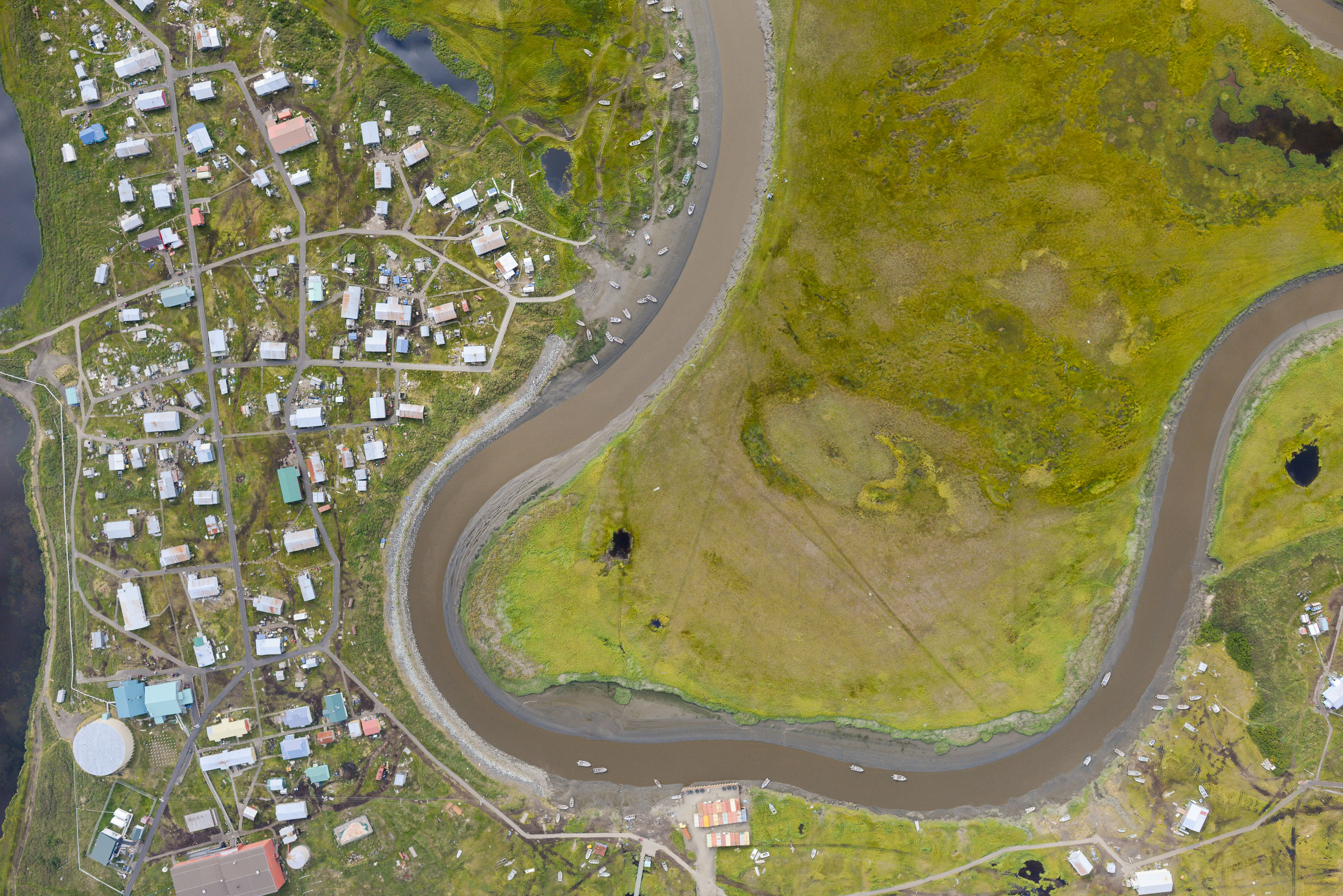 The tide extends pretty far inland.  Here is Kong, about 5 miles from the ocean.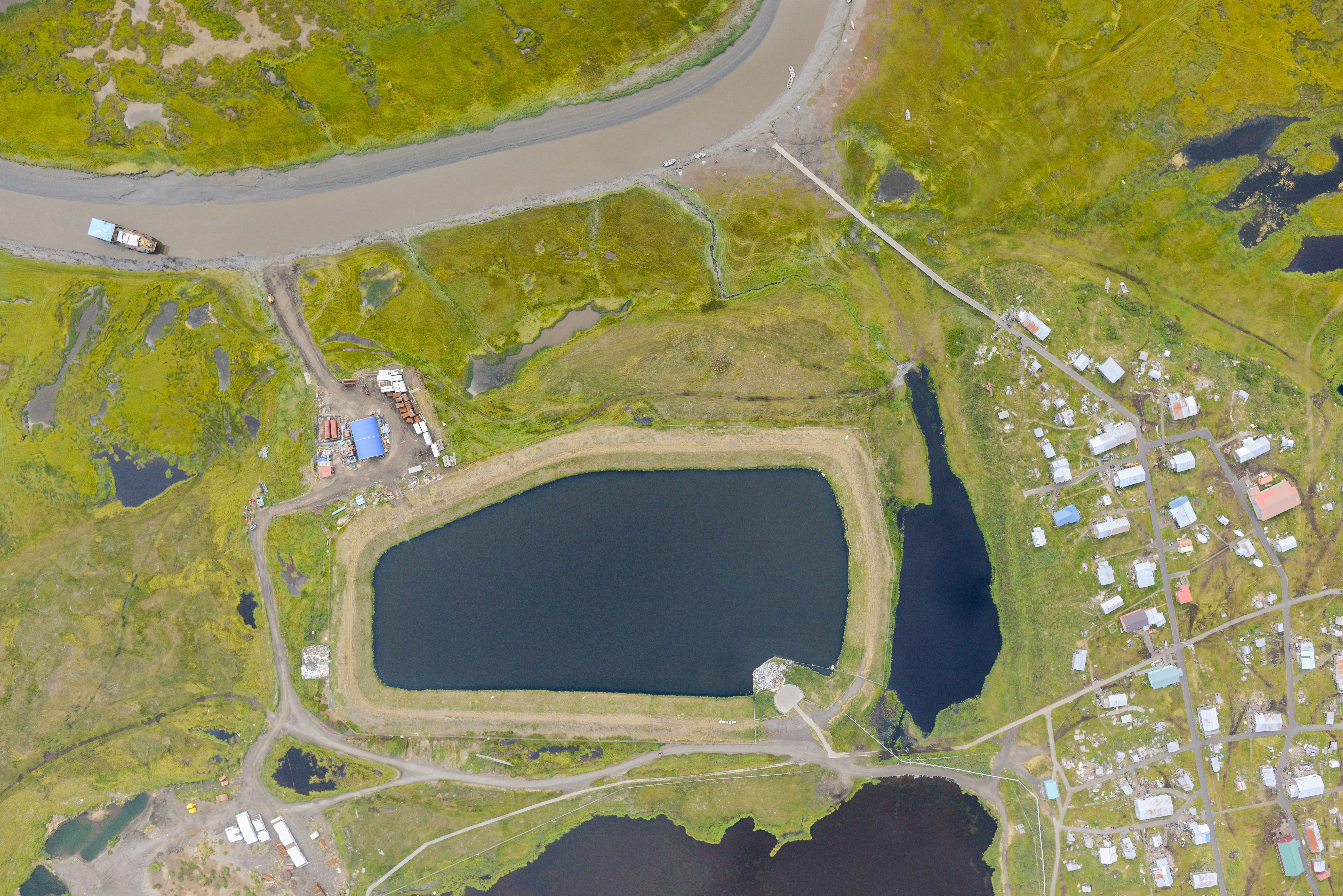 I hope this guy wasnt planning on going anywhere for a while.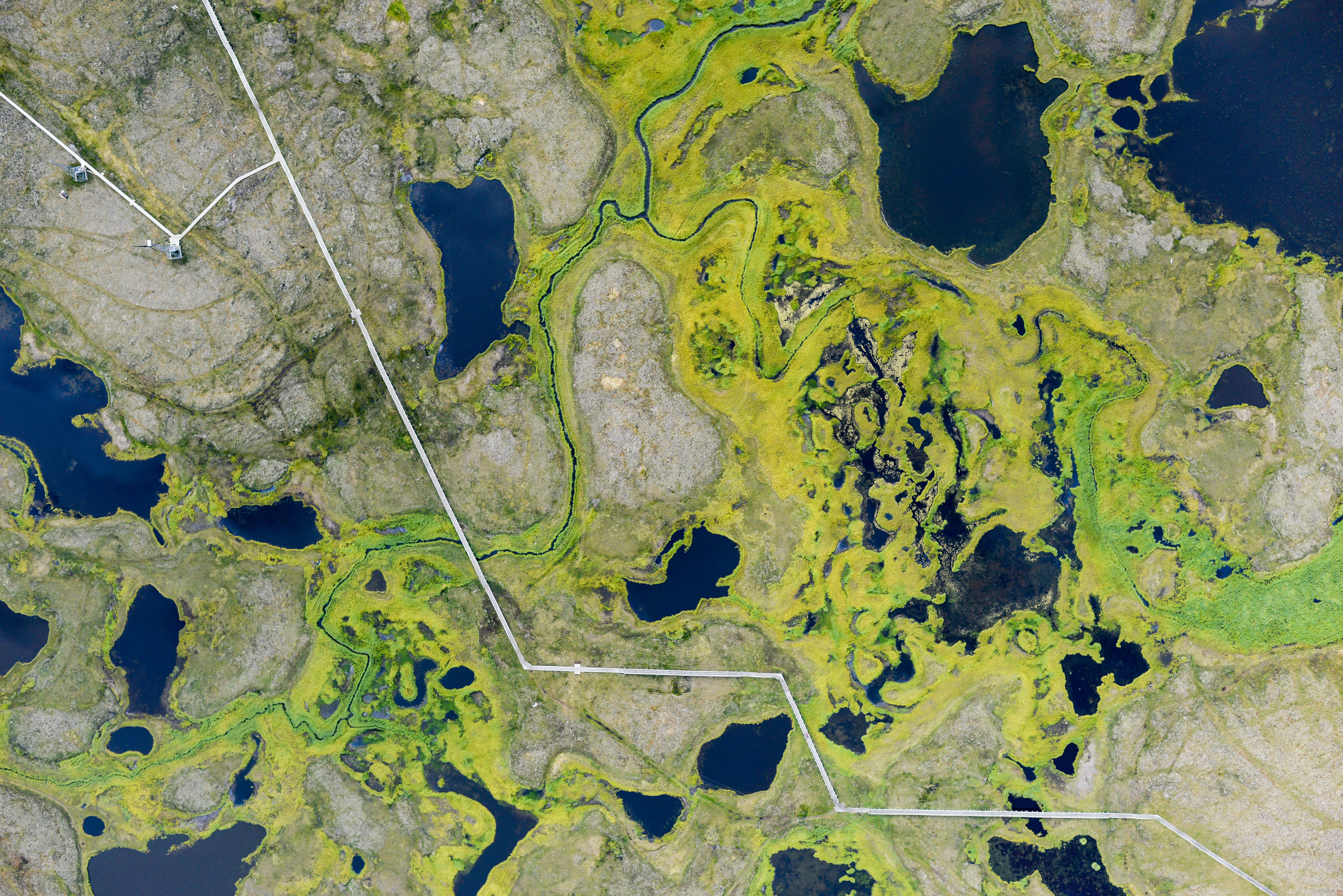 Modern art on the tundra.  There's no end to the variety out here it seems.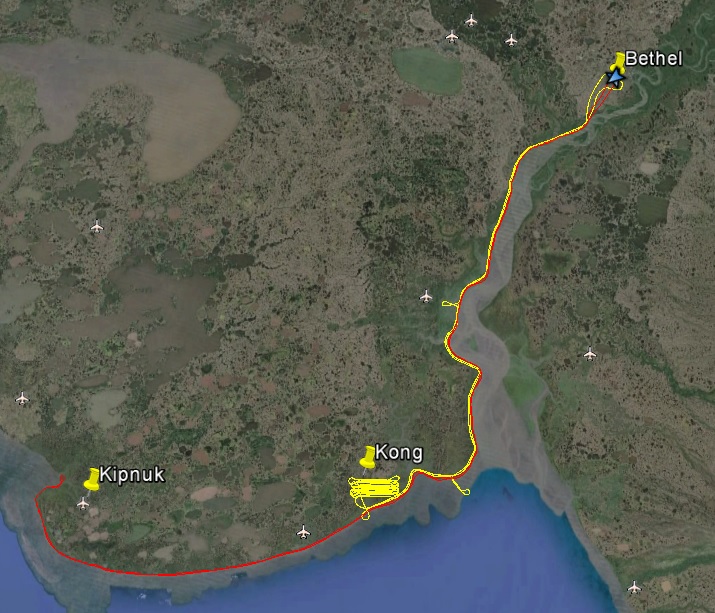 Red yesterday, yellow today.  Making progress…